Background
More international students are choosing to get a part-time job to reduce the stress from the cost-of-living crisis and rising inflation in Australia. However, employers offer international students wages that do not meet the national minimum wage. Many international students report that their part-time wages are still insufficient to keep up with rising Sydney prices and they get paid very little for every hour they work. Additionally, some international students mention that they are unaware of how to safeguard their work rights in Australia and were not informed about the Australian Government's new regulations, which include the re-introduction of a 48-hour fortnightly work restriction on student visa holders from 1 July of this year.
Story topic and angle
Many surveys found that many international students continue to face exploitation and unfair treatment in the Australian workforce. One of the main factors contributing to this problem is the lack of knowledge among international students regarding their work rights and relevant regulations in Australia.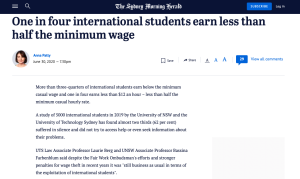 The genre of this article will be a feature news story that examines the experiences of international students in the Australian workforce, the challenges they face, and the measures that can be taken to improve their working conditions and protect them from exploitation. Through interviews with international students, associations, and the Australian Fair Work Ombudsman this story will illustrate the seriousness of this social issue and highlight the need to raise awareness of local fair work regulations among international students.
Publication and Audience
This story will be published in the Insider Guides because it focuses on offering practical news and information for international students in Australia. Also, Also, this publication will be more easily reachable for non-specialist journalists
The target audience might have been highly educated and located in regional Australia, especially those interested in issues related to international students, labour rights, and immigration. This may include international students themselves, their families, associations, educators, policymakers etc.
Information source
I plan to interview Professor Gaby Ramia (Email: gaby.ramia@sydney.edu.au), an expert in Policy and Society. He can provide valuable insights and knowledge about the social, political, and economic factors contributing to the unfair treatment of international students in Australia.
Contacting the people at international student associations in Sydney to request support, information, and perspective related to this social issue.

international student associations in Sydney (From Instagram).
Online Delivery
Contains hyperlinks to Twitter Post – Which has strong opinions on this issue.
Insert a YouTube Video of How minimum wages work by the FairWorkGovau.
Two Medium Close-Up Photos of international students doing part-time jobs in Australia.
Add indexing practices, keywords, and polls to improve news interactivity.