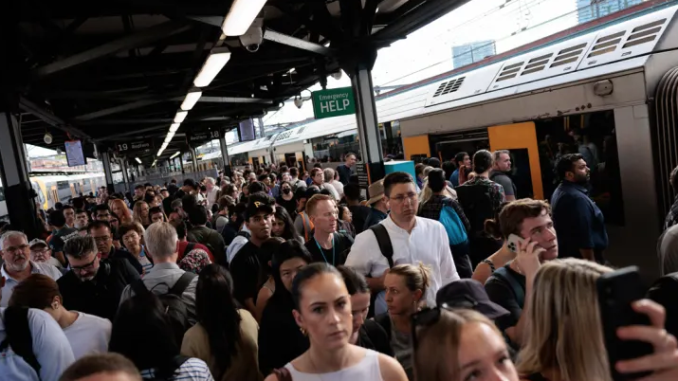 A severe train breakdown occurred at Sydney Central Station on the afternoon of March 8th. (The Sydney Morning Herald: Rabe & O'Sullivan).
STORY TOPIC & ANGLE
In the first four months of 2023 alone, Sydney residents experienced frequent large-scale train delays. On Wednesday, 8th March, during peak transportation hours, the digital radio system of Sydney's railway network malfunctioned, resulting in a complete network shutdown. At least 250,000 commuters were left stranded at various platforms throughout Sydney, with some forced to endure waits to exceed 90 minutes. On Tuesday, 14th March, Sydney Trains once again issued a warning of train transport system disruption, due to the need for emergency signal light repairs at Broadmeadow and maintenance work on the Waitara North Shore rail line. Adding insult to injury, Sydneysiders were further exasperated when the train system encountered new issues such as wire breakages and isolated power outages on the subsequent Friday and Saturday of the same week. Passengers pay not only exorbitant fares but also the cost of train delays. However, due to a lack of accountability, they struggle to seek redress, as the responsible party remains unclear.
Sydneysiders express anger and helplessness at the Perrottet government's neglect of transport system upgrades. Meanwhile, Labor's spokesperson on transport, Jo Haylen, states that the latest maintenance backlog for the 2021-22 financial year has reached $670 million, an increase of $230 million compared to the 2019-20 financial year. Despite multiple transport experts warning that outdated communication technology and poor contingency planning may continue to cause Sydney train failures, it seems that the attempts for improvement by Transport for NSW and Sydney Trains are considerably limited.
This feature story will offer a comprehensive review of documents released between 2021 and the present, pertaining to the federal and New South Wales state governments' financial budgets, allocations, and investment plans for the transport system in New South Wales or the greater Sydney region. Concurrently, it will revisit reports from non-official transport planning and engineering professionals. This coverage aims to enhance public understanding of the causes behind Sydney train system failures, raise awareness and sensitivity to specific financial fund allocations, and promote comprehension of future transport system upgrade plans. Key features of the story encompass newsworthiness, timeliness, and relevance.
TARGET AUDIENCE
The target audience for this news story includes Australian citizens (voters) residing in the Sydney region who rely on trains as their primary mode of transportation, as well as international students and overseas workers. This coverage can assist Sydney voters in understanding the New South Wales government's and transport authorities' plans for the Sydney train network, potentially influencing future election outcomes.
DESIRED PUBLICATION
The intended publication platform for this news story is The Sydney Morning Herald, as it is published in the Sydney region and, being Australia's leading news brand, boasts a long history and a vast local readership. Renowned for its independent, accurate, and high-quality news and debates, the platform aligns with the tone and target audience of this story.
INFORMATION SOURCES
In-person interviewees:
I will conduct random audio or video interviews with the public on the University of Sydney campus and near Redfern Station, seeking their opinions and the impact of this year's large-scale train delays after confirming their willingness to participate. Each interview will consist of 3-5 questions and be approximately 5 minutes in duration.
Online "interviewees":
I will gather opinions and comments on Sydney train delays from Twitter to minimise sample limitations and to capture a broader range of perspectives.
Relevant data & news sources:
Multimedia, Hypertext and Interactivity
In this news piece, I'll incorporate various media, including my interview audio, as well as government press releases and other relevant videos and images to present the topic.
All reports and texts mentioned will have hyperlinks to the original or related websites, providing a rich and comprehensive information source for the audience.