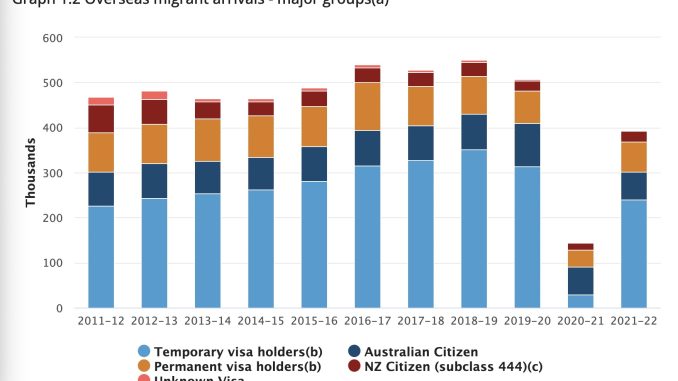 After Covid-19: The Situation of Chinese Immigration Applicants under the New Immigration Policy.
Key Words: Immigration, Chinese, Covid-19, Visa
Late at night on April 15, many construction workers were busy working at Sydney's central station, looking closely and noticing that most of them had Asian faces.
(Photo by Xing Fan, At 10:00 pm on April 15, Asian building workers worked at the central station.)
There are many Chinese builders who have left their home country to work in Australia, Yuan Cui is one of them, he came to Australia three years ago, "I was having a hard time during the epidemic, my hourly rate was only 15, now I can get 400 Australian dollars a day. Yuan said.
The Australian government has announced that by the end of 2023, all Temporary Skill Shortage (TSS) (subclass 482) visa holders will have a pathway to permanent residency providing employers and migrants with more certainty and helping increase the skill level in the permanent skilled migration program.
Yuan Cui is the holder of visa 482 Temporary Skill Shortage (TSS) and was pleasantly surprised by this policy. "It's a bit lonely here without family and friends, but for now it's all about making money and the pay is really good here," Yuan Cui said.
Yuan Cui says: "It's so much better than during the epidemic, I arrived at the end of 2019, covid-19 came with it, and I was feeling lost."
The epidemic has had a significant impact on the world, both individually and on an overall basis. Australia's migration industry has also been challenged as never before. Travel restrictions, border closures, and the economic downturn have prevented the migration program from working normally.
Sean Shang, who has been working with LightUp Australia as a migrant consultant for five years now, knows all the policies of the migration industry. When I asked about the impact of Covid on the migrant industry, Sean Shang said it was a terrible time.
"It was very hard, there were hardly any clients, and it was very stressful." Sean Shang said.
With progress in vaccination and a recovering economy, the Australian Government is beginning to recognize the importance and opportunities of migration and offering beneficial policies.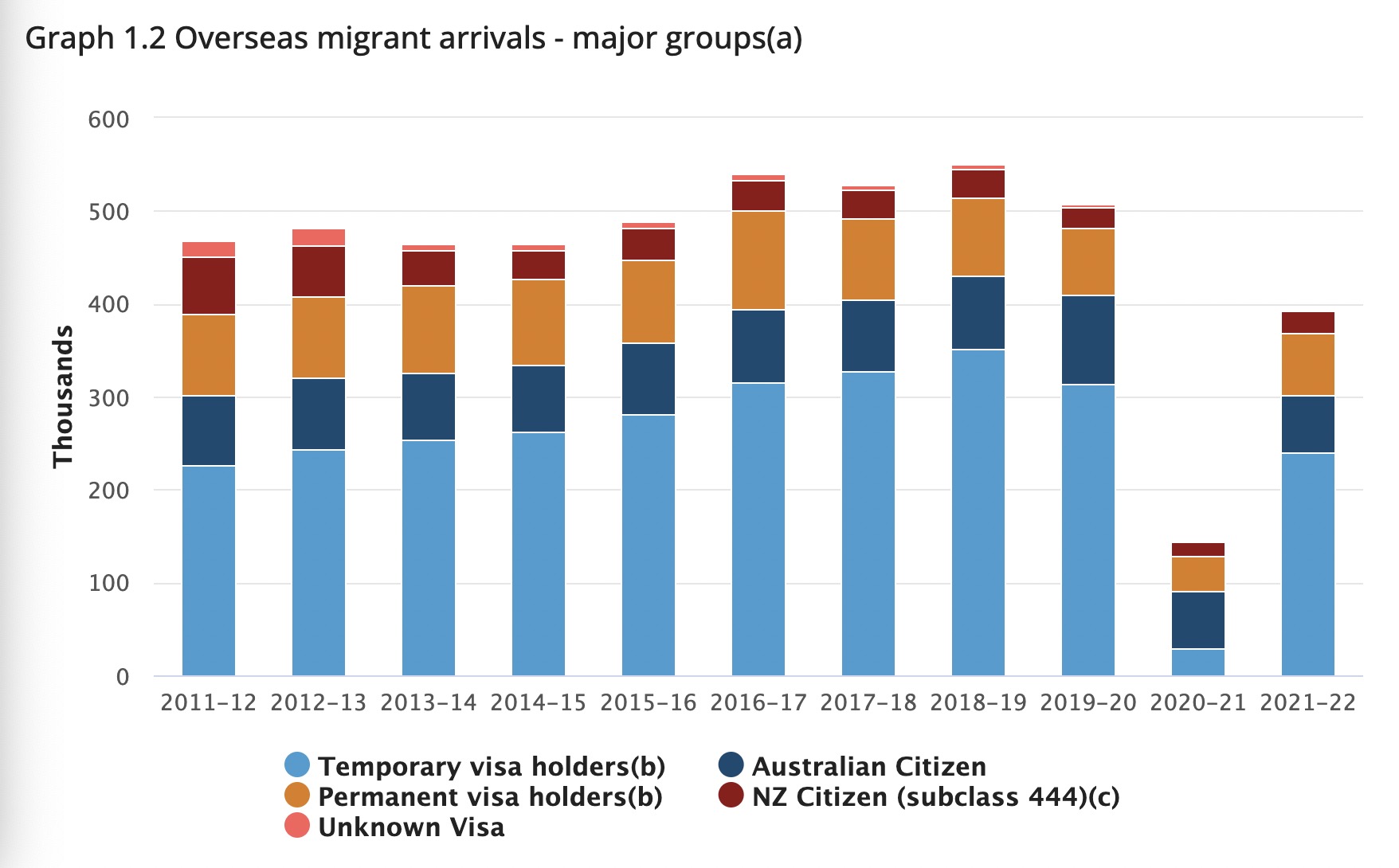 Source: Australian Bureau of Statistics, 2020-21, a net loss of 85,000 due to the impact of the COVID-19 pandemic
According to data from the Australian Bureau of Statistics(ABS), The easing of COVID-19 international travel restrictions in 2021 has driven this increase in migrant arrivals, however, there were still fewer migrant arrivals than prior to the pandemic.(ABS, 2022)
SYDNEY, Sept 2, 2022, Australia on Friday increased its intake of permanent migrants to 195,000 this financial year, up by 35,000 (Person & Renju Jose, 2022)
The new policy is being hailed as good news by migration agents. "This is very positive news for migrants, who are coming back to Australia after a lull in the epidemic."Sean Shang said.
Ning Ning arrived in Australia in July 2022, she was studying for a Master in Law at the University of Sydney, but a month after arriving in Australia, she moved to Western Sydney University to study early childhood education(ECE). She chose this course just because it is better qualified for immigration.
In the morning, at 8 am, I followed Ning Ning by train from the central station to the University of Western Sydney in Parramatta, she has language classes every morning, as the migration application for ECE requires a high IELTS level with 8 points in speaking and writing.
After comparison, ECE was more suitable for me and it was easier to get a PR than other professions," Ning Ning said.
Sean Shang also agreed that due to the large gap in the sector, ECE only required 65 points in the final evaluation score compared to 85 points for accounting.
"Early childhood education is a scarce profession in Australia, it's a tough industry and it's hard to retain people. And many people just use it as a springboard for migration and quit after they get their PR," Ning Ning said.
In contrast to the labour shortage in Australia, China has a large population and a highly competitive labour market. The large supply of labour has resulted in limited employment opportunities, particularly in some traditional manufacturing and low-skilled sectors. In the higher-skilled sectors, competition is fierce and companies take advantage of the oversupply of labour to reduce pay levels and overtime has become a culture.
"The employment environment in China is too stressful, in Australia it's better, there's no overtime culture, I can have a life, and I think it's a very female-friendly country," Ning Ning said.
As technology advances, the IT industry has seen a reversal of fortunes and has become a popular migration profession, says Sean Shang.
"Until 2022, visa 189(Skilled independent), visa 190(Skilled Nominated), and visa 491(Skilled Work Regional ) will give preference to the medical sector, early childhood education, and social work, so until then, the IT sector is not really at a premium. But there is still a shortage of IT jobs in Australia," Sean Shang said.
Leo Zhang, a master of data science at the University of New South Wales, told me he had no intention of getting a PR but decided to give it a try when he saw the change in policy.
"The extension of the Temporary Graduate visa (visa 485) from 2 years to 5 years has given me more confidence than the previous policy," Leo Zhang said.
Policy changing
Australia's immigration policy is constantly evolving as the environment changes. For most applicants, the process usually takes four to five years, and if unsuccessful, it is a new start when they return to their home country. These variables also raise questions about the ease of obtaining PR for migrant applicants.
" Immigration policy changes with the general environment, each state's policy changes with their quotas, state sponsorship can change over time, for example, the IT industry required 2-3 years of experience, but the number of applicants was particularly low, so that requirement was canceled." Sean Shang said.
Advice for people thinking of migrating
Whether you have already migrated or are considering it, the changes in Australia's immigration policy are a reminder to keep track and plan early.
"It's always good to plan ahead because I've met many people who are eligible to apply for immigration, but they always want to wait for the best policy, but they miss the best time and end up paying more money and time, so it's better to plan ahead, even if you don't want to immigrate later, you won't lose much. Sean Shang said
Xing Fan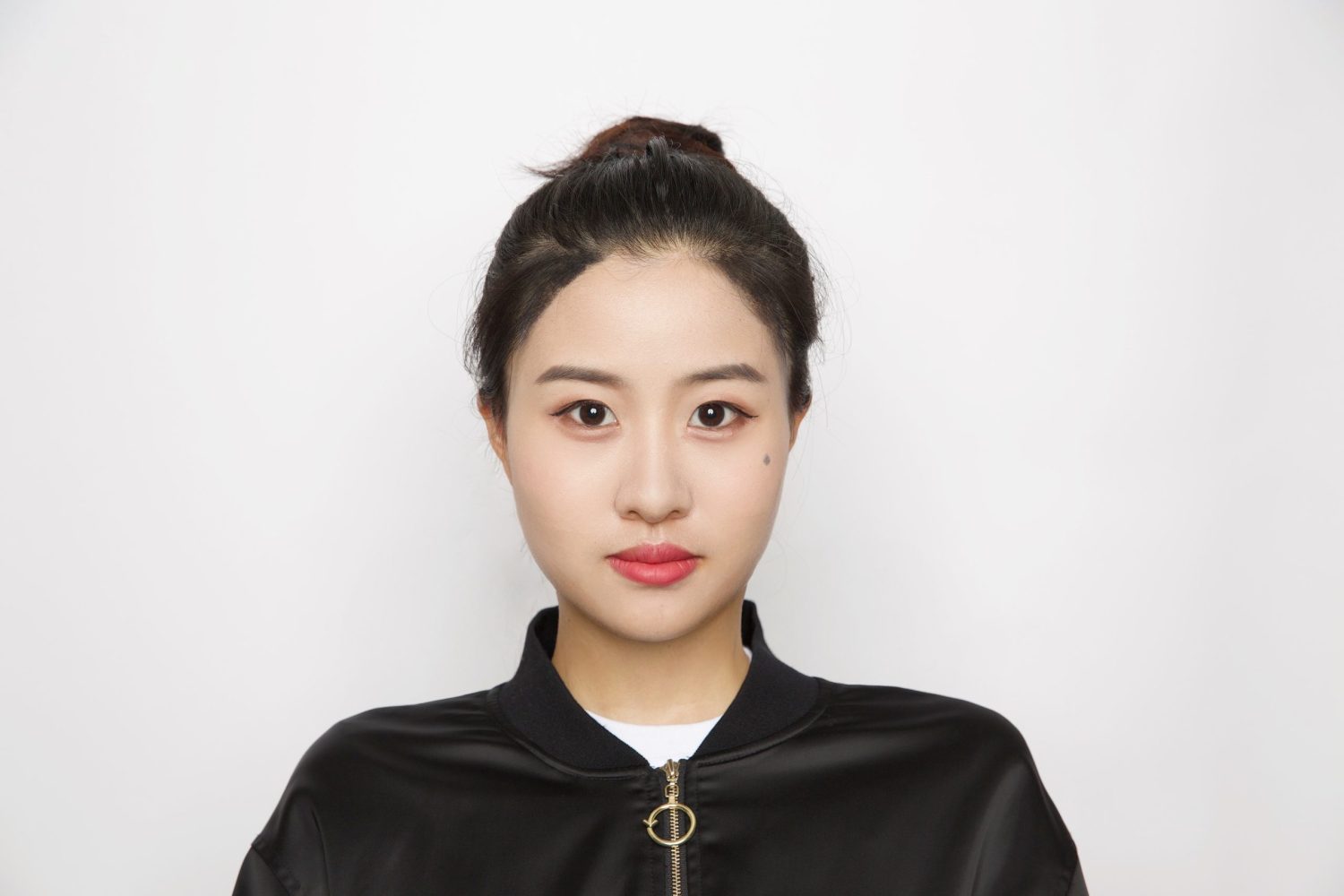 Master of media practice, university of Sydney
Bachelor of Art, Ohio state university.
Contact: littlestarmom@163.com