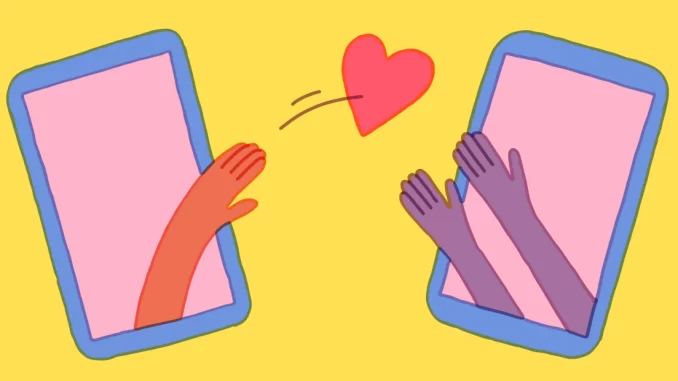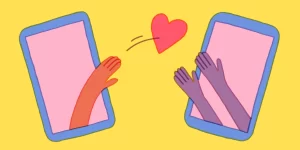 Source: https://www.nbcnews.com/
Online dating has exploded in popularity in this age of constant connectedness, making it easier than ever to meet a potential romantic or platonic partner. Romance scams, however, are a prevalent and harmful phenomenon that lurk beneath these promises.
As of 2023, according to Hootsuite, more than 4.74 billion people worldwide use social media, with the number of social media users growing by 4.2% in 2022, resulting in more and more people choosing to use social media to find their significant others.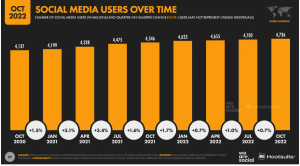 Source: Hootsuite's Digital Trends Report 2022
Bonnie Wang, a 25-year-old international student from China, met a romance scam. "I had only been in Australia for a month and had no friends around me. He said he saw the pictures I posted on Instagram and liked me and wanted to get to know me. He said he saw my Instagram photos and liked me and wanted to get to know me," Bonnie Wang said.
"He added me on WhatsApp and cared about me every day because he was in Melbourne and I was in Sydney, and he promised me he would come and see me when he was on holiday." Bonnie Wang said while reading the chat log.
Bonnie Wang's best friend Anna Xue said, "At first she told me that she and Alex Li met on Instagram when I told her to be careful because there are too many cases of cheating on the internet with feelings, until after a month of chatting Alex Li mentioned asking Bonnie Wang to invest money, I reminded Wang is definitely a scammer."
Ms. Wang said "My best friend also reminded me that he is a scammer, but this month he chatted with me every day, and we even called, he said he really liked me, I do not believe that he is a scammer, at first, he and I said the money just want me to invest, I think he is kind to let me earn more money, because he sent me his selfie photos and his house feel that he is A rich man, and very handsome, I also like her very much. "
Anna Xue said, "I did not persuade her, at that time her spirit seems to be controlled by this scammer, Bonnie Wang really transferred 3000 Australian dollars to Alex Li, and she finished the transfer before telling me, I was very angry. "
"Alex Li gave me a website, he said he was doing online currency, and only earning money, he told me to trust him, and before I transferred money to him also transferred me 500 Australian dollars, said this is the reward for his trust, originally he asked me to transfer 10,000 Australian dollars, but I do not have so much money, so only transferred 3000 Australian dollars. "Ms. Wang said." After the transfer of money, he disappeared and send a message will not I did not until I was cheated, my friend was right before. "
After that Bonnie Wang chose to call the police, but the police said they did not find any information about the person named Alex Li in Melbourne, and his account showed in Southeast Asia, not in Australia. The police told Bonnie to be more vigilant, romantic scams happen frequently in Australia.
National Australia Bank reported in February 2023 that the number of customers victimized by romance scams had increased by 17 percent over the previous year. After transferring money, many consumers discover they've been scammed, but by the time they contact their bank to request a stop transfer, the money has already been stolen.
Criminals pretend to be single looking for love and contact people through dating apps, social media, or text messages. Scammers will move quickly to gain the person's trust and then ask, convince, or force them to send money.
Chris Sheehan, NAB Executive Group Investigations and Fraud, said that it's important to know how to tell a scammer from a possible partner, even though many long-term relationships start online.
"The effects of romance scams on victims can be devastating, both financially and emotionally," Mr. Sheehan added.
Mr. Sheehan said, "Ask your online date a lot of questions to get to know them better. Scammers will rather talk about you than themselves, so be on the lookout for anomalies in their statements, and don't be afraid to alert trusted loved ones to the possibility of fraud."
"We commit ourselves to doing everything in our power to stop fraud and retrieve lost money. But if you do send money to a fraudster, it might be difficult to get it back once the money has left your account, as con artists are speedy and resourceful."
Mr. Sheehan emphasized the importance of prevention in the fight against fraud and urged Australians to be on their guard.
The Australian Competition and Consumer Commission's Scamwatch received 3,698 reports of romantic scams in 2022. Scammers contacting victims via mobile apps and social networking sites accounted for nearly half of these reports.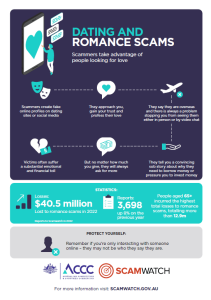 Source: https://www.scamwatch.gov.au/
Scammers are despicable scoundrels who resort to any means necessary to trick their victims into handing over sensitive information or parting with their hard-earned cash. Catriona Lowe, vice president of the Australian Competition and Consumer Commission (ACCC), warned those who are interested in online dating to be aware of the methods used by romance scammers. "It has never been more important to be sure whom you are communicating with," Lowe said. And she also reminded people what Romantic Scammer Tactics are and how to prevent being scammed.
Romantic Scammer Tactics
Scammers are proactive and will frequently try to get in touch with you. Con artists "groom" their victims by wooing them with heartfelt declarations of love and moving anecdotes in a short amount of time. They might even send presents.
They want you off the platform or app. They may offer phone, email, or WhatsApp if they met on a mobile app. Moving to another platform will prevent law enforcement from accessing their interaction logs and the platform from deleting their personal data.
You're banned. Those who meet via a mobile app may offer phone, email, or WhatsApp. Moving to another platform prevents law enforcement from seeing interaction logs and the platform from erasing personal data.
Important guidelines for avoiding fraud
Stop – Before donating money or providing personal information, take your time.
Consider the situation and ask yourself if the message or call is bogus.
Protect – If something feels wrong, act immediately. Contact the police and your bank in order to report the fraud to Scamwatch.
If you come across any cheating situation online,  please contact me:
Sicong Wang : swan2832@uni.sydney.edu.au