How's the headline?
At 24 words in length, it feels convoluted and not SEO friendly. It fails to name the school involved, which users are likely to search for and instead gives unnecessary information best left for the standfirst or body.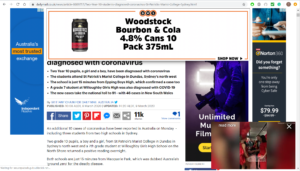 How is the interface?
Overwhelming and distracting are the only ways to describe the flurry of advertising, videos and unrelated stories surrounding the main text of the story.
Before a user is first able to read the story, an auto-play video pop-up appears in the right-hand corner of the page.
Further, the page's banner ad initially follows the reader scrolling, partially blocking text from the story, which is then consistently interjected by advertisements and links to other stories on the website.
Are there useful links for users?
No, the story does not provide any hypertextual links for context or further information on any topics/previous stories discussed in the article. The links to news stories around the text are also not related to the content of the article.
Users can click a link to the author's other stories for the Daily Mail Australia and to follow her on Twitter. However, no bio or description of the said author exists in this link, and the Twitter page is set to private – small steps can lead to greater transparency and accountability.
https://www.dailymail.co.uk/news/article-8089757/Two-Year-10-students-diagnosed-coronavirus-St-Patricks-Marist-College-Sydney.html