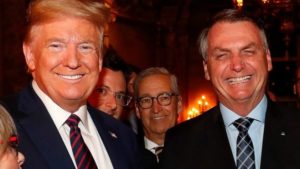 Credit: BBC News
https://www.bbc.com/news/world-us-canada-51893445 : Coverage on BBC
Content:
The article has good SEO, it can be found easily searching Trump coronavirus.
The article follows the inverted pyramid structure, the headline is concise, the starting paragraph is delivered in small blocks and can be read easily.
Format:

The image had citations underneath explaining who was in the photo and why this was relevant to the story. The article has sub headings, they have bigger font size and are bold when viewed on a computer, but this isn't apparent on the phone where the words only appear a bit larger.
Hypertext:
Hyperlinked articles can be seen throughout the article in bold. It would be nice if the hyperlink opened in a new tab instead of replacing the current page.
The embedded videos have the play botton on the bottom left corner, making it harder for phone users to misclick the videos when scrolling through the article, though it can still happen.
It is embedded with icons of social platforms so that users can share it.
Though the desktop version of the article contains tags for easier browsing, like the coronavirus at the top, Donald Trump and United States on the bottom, the tags don't appear when viewed on the phone, which is inconsistent.