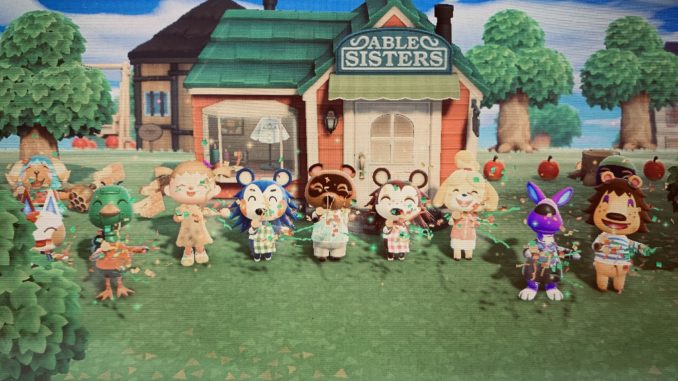 "I have taken the leave of absence from my company for almost one and a half months," Tao said proudly with smile. "This game is kind of my career now. It makes much more money than I work as a programmer."
Tao's cash cow or namely the "career" he is chasing, is actually one of the most trending Nintendo video games, Animal Crossing: New Horizons, that has accompanied thousands of people and played a social network role during their lengthy and boring quarantine time.
So…What is Animal Crossing: New Horizons?
The game uses Nintendo system's real clock to enhance user immersion and the gameplay is actually quite simple. It throws players to an uninhabited island where they can design everything by themselves. Everyday a near-bottomless bounty of new elements like infrastructures, gifts, crafting recipes or even new neighbors (NPCs) will be introduced to players. Eventually the originally empty island will become a village full of islanders with players' unique creations.
Unexpected popularity of Animal Crossing: New Horizons
This quarantine anecdote released on March 20, awarded a 9/10 review by IGN, is actually not the first game of Animal Crossing franchise. However, it has become the fastest selling Nintendo Switch game released so far with 11.77 million copies sold in its first 11 days on sale. More importantly, the strong demand of this game has enabled Nintendo share price to achieve a new 52 week high in April.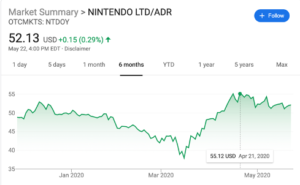 The charm of Animal crossing: New Horizons keep spreading rapidly from gaming circles to all social media platforms. Take Tiktok and Reddit for example, there are more than 2.5 billion viewership of the contents under #animalcrossing hashtag. In terms of Reddit, around 1.2 million members have joined their exclusive community compared with the Nintendo Switch official community on Reddit with mere 2 million members.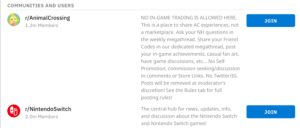 "Animal crossing is so hot! It seems everyone around me is addicted and it has become the everyday topic with my friends in the whole April," Gabriel, a Switch game pro gamer, grumbled. "I will be left behind and totally out if I don't play it."
The profits behind
Due to the continuous topicality and popularity of this game, a large group of people smell the opportunity to take advantage of it. When people search Animal Crossing on Ebay Australia, there are more than 7,700 results coming out, most of which are selling not cheap decorations like decoration sets, collections, bells (currency/money of this game) and even the services like cleaning island for the gamers if they don't have time to do it. The price set depends on how difficult to obtain these materials. After ordering, gamers only need to share their island codes to the sellers and wait until they land the islands, home delivering whatever services or items they have purchased. Generally speaking, no more than 10 minutes would be all settled.
The selling number of the game items also looks amazing in Taobao, the largest online shopping website in China. The best-selling store amongst sold nearly 0.5 million copies of items. Based on the unit price of the product, the store has already earned at least 5 million CNY through this game, which is equivalent to 1.08 million AUD. The turnover can only be much higher as they would modify the price according to the actual demand.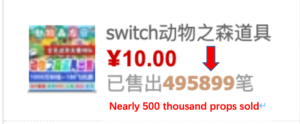 Tao's business is much smaller than that of this big-time seller mentioned above but the revenue is still much better than his unchanged monthly salary (around 5,400 AUD per month). From the release date of Animal crossing (March 20) to April 20, the daily turnover of his little shop has reached 4,300 AUD. At weekends, the turnover could even surge to 20,000 AUD (nearly 5 times as much as the sales of weekdays) per day.                                                                    
"To tell the truth, no pain no gain," Tao said. "Initially I want to develop a program and embed it in the Switch system so that I can collect all the props, bells and other materials super faster than normal speed. In layman's words, the program can control the Switch account and enable it to work for me day and night, collecting all the things we need automatically. However, I failed." He smiled with some embarrassment. "In order to collect more stuffs in the game, I recruited 5 young relatives to manually help me out. They are all students who cannot personally go to universities due to COVID-19. I pay them each 1,000 CNY (210 AUD) every working day and they are quite satisfied with the salary even though they often need to stay up late for this 'collectathon'." Then Tao suddenly said that he had developed another program for faster service delivery to emphasize his professional programing skills. "Although it can only help a little, we have to admit that this program has increased our customer satisfaction because of the speed of delivery."
Potential Risk
As one of the most famous video game companies that usually takes legal actions to protect its patent, Nintendo and the Nintendo's end user license agreement clearly state a holistic restriction of normal gamers. The key point of this statement is that Nintendo does not allow any modification of any portion of the game software especially when it's for commercial use. Obviously, Tao has violated it.
When asked whether he knew about that, he admitted. "As far as I know, there is no penalty for doing this…Countless people are making profit from them and why I'm the person to be spotted? Even when Nintendo find this and ban my Switch Online account, I can still restart with a new account. In a worst-case scenario, just sell my program and the store. But by then, I will have already made considerable amount of money," he said light-heatedly. "I forgot to mention, someone just offered me 400,000 CNY (86000 AUD) to buy my Taobao shop weeks ago and I turned him down."
The strange trading phenomenon behind Animal crossing: New Horizons is actually a reversal of the original intention of the game producers to create a peaceful getaway or paradise for people living in a fast-paced society.
No one has ever seen a real Utopia. At least, the world of Animal Crossing is not so idealized that still reflects human being's nature of pursuing profit like a mirror.