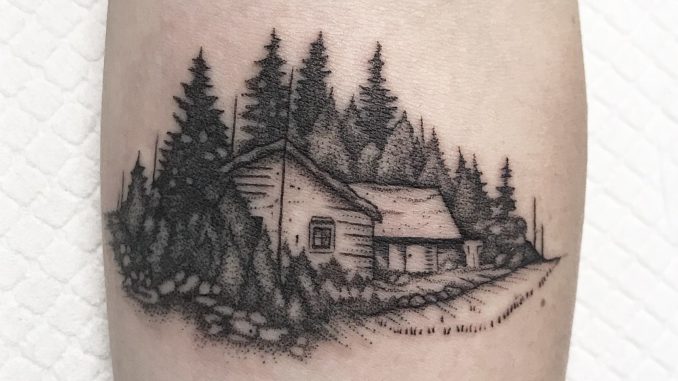 If you live in NSW, what was April 2020 like for you? Perhaps you had to get used to online classes; perhaps you were annoyed that you couldn't hang out with friends for a while; perhaps you were left without work. As we enter the month of June, restaurants and shops are re-opening, people are returning to their offices… Most recently, beauty and nail salons, as well as libraries and museums, have received the green light to operate from June 1.
A group of talented artists in Sydney are still waiting for their turn.
Onnie
Onnie O'Leary, a veteran tattooist of 9 years, is one of them.
A passionate artist who graduated from Sydney College of the Arts with a Bachelor of Visual Arts, Onnie fondly recalls the days that she "worked 10am to 4pm at a hostel, then went straight to the tattoo shop to work until 10pm" – only to also start working at a night club soon after, landing her with 10am to 4am work days.
"If you want to become a tattooer, expect to work hard for no pay, aside from the skills you'll learn," said Onnie. Her 2-year long apprenticeship rewarded her with the chance to constantly engage in artistic collaborations in the years to come, by "making [customers'] ideas come to life".
But the dream life that Onnie had been living screeched to a halt, when all tattoo studios around NSW were forced to shut down in March this year. As the body art industry is mostly commission-based, Onnie lost all of her main income for weeks, until JobKeeper payments came through.
Onnie is a tattooist at TLD Tattoo in Gymea, NSW.
Ruby
With a background in graphic design and freelance illustration, Ruby Scanlon cherishes her hard-earned spot in the tattooist community.
"It took me a while to find an apprenticeship," she said. "Not all artists have or want an apprentice, so you really need to be in the right place at the right time."
While Ruby loves art in all forms, from drawing to knitting, to playing her banjo, tattoos stand out to her as a powerful medium of self-expression – a "rite of passage throughout so many cultures".
Like many other body mod professionals out there, Ruby takes pride in the fact that her job helps people love their bodies. "I have always loved the idea of tattoos ageing with the body, becoming a part of someones story, and depicting a point of time in someone's life," said Ruby.
But alas, with the current restrictions in place, Ruby hasn't been able to ink anyone in more than two months.
Ruby is a tattooist at The Iron Buddha in Ashfield, NSW
Megan
Megan Oliver has been tattooing since the early 90s, after graduating from Auckland's School of Fine Arts – inking others has long become an inseparable part of her life.
Having previously tried her hands at various art jobs, Megan felt that with her aptitude for art, tattooing would be "an ideal way to make a living".
Little did she anticipate that as of late March, 2020, tattooists' incomes would be reduced to zero (unless of course, they wanted to risk a hefty $11,000 fine).
Megan is a tattooist at Little Tokyo in Surry Hills, NSW. 
Making lemonade from lemons
When life throws lemons our way, true artists, with immense dedication to their art, make the sweetest lemonade.
Ruby's been keeping herself busy, in her bid to "make the most of this unique situation". This means working on more Flash pieces, designs, and prints, and even opening her own online store. She's been drawing whenever she can, and has also been taking on commissioned projects.
Megan has occupied herself with watercolour paintings, and is currently working on a large scale acrylic-on-canvas piece. In fact, all the tattoo artists at Little Tokyo are currently working together to launch a painting exhibition at their studio, featuring the paintings they've been working on during lockdown.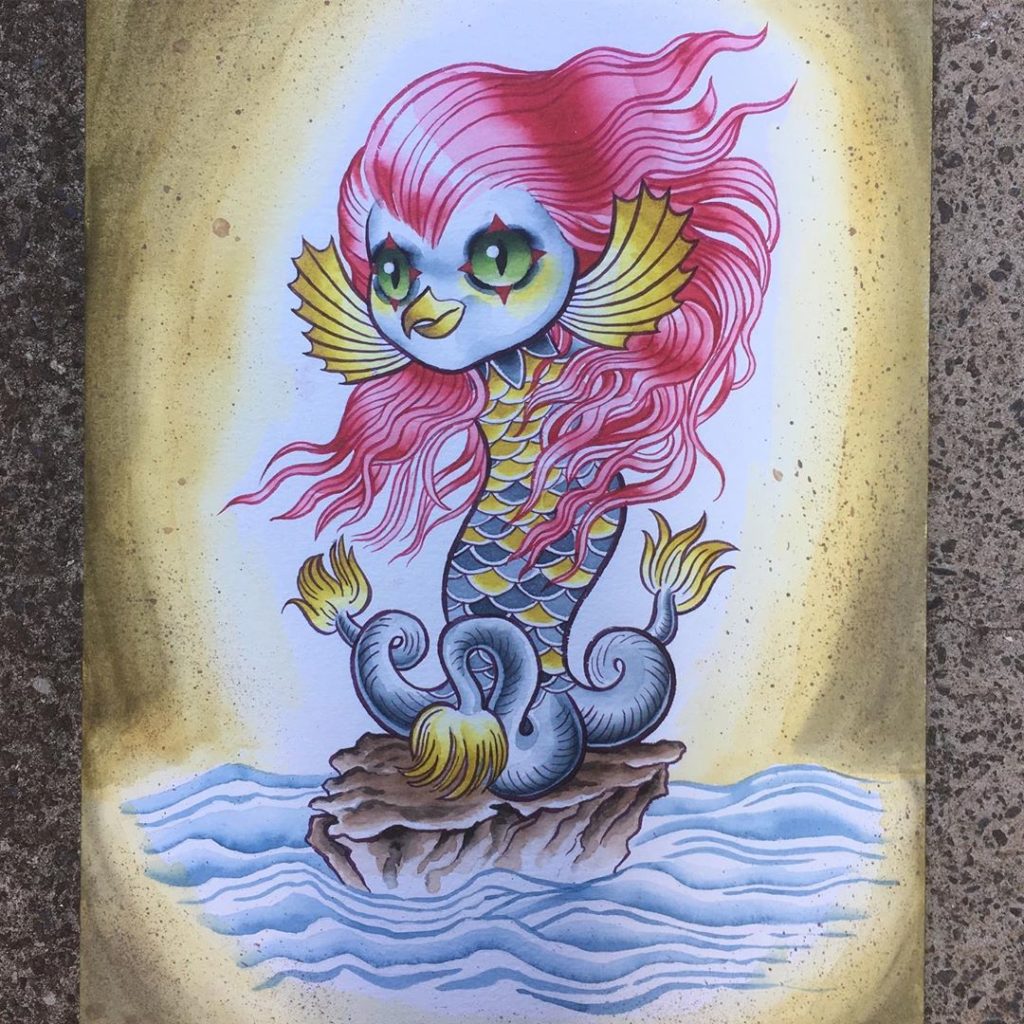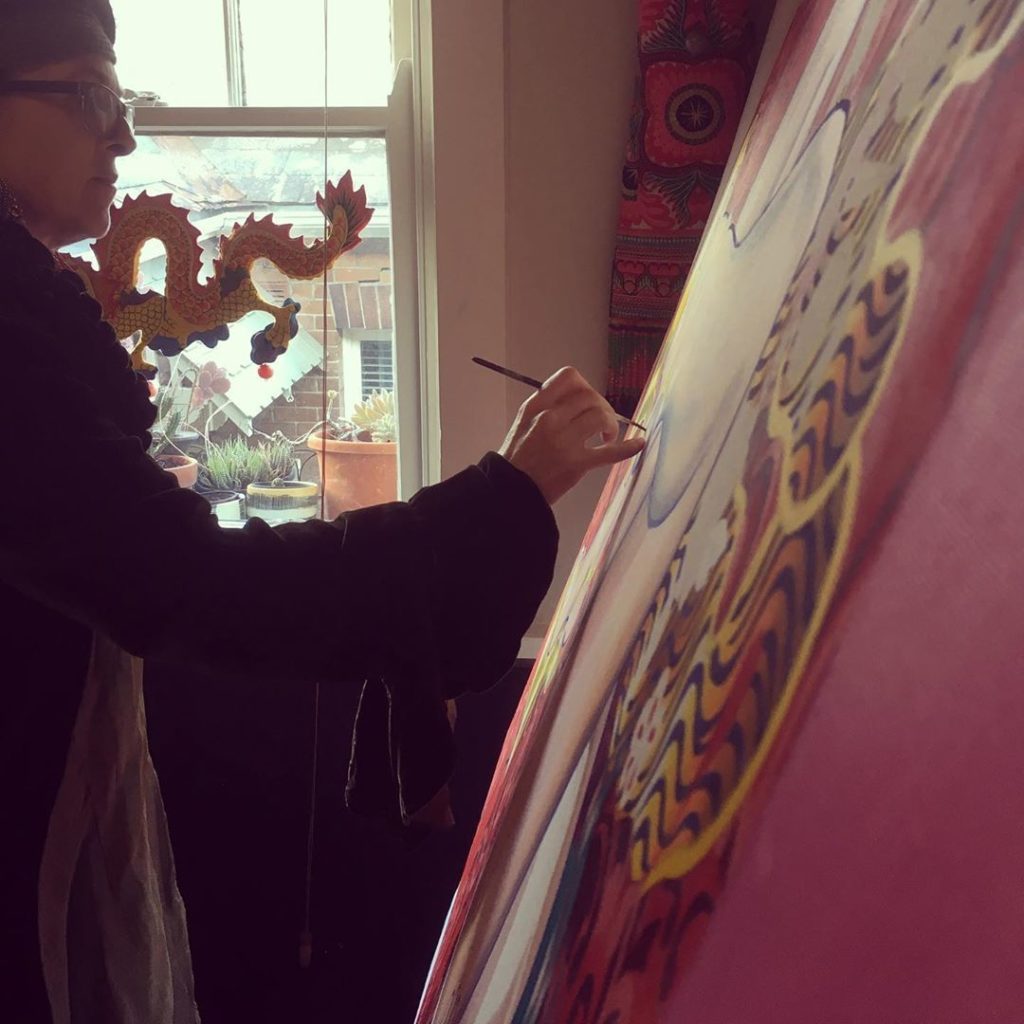 Megan has also decided put her art to practical use by making something most handy for the current situation – masks! She's been designing and sewing lots of intricately designed floral masks. Who said we can't be fashionable and safe from pathogens at the same time?
Last but not least, Onnie has been working on a comic with Ugly Tom, a tattooist in North Carolina, USA, whose tattoo business has similarly been affected by the pandemic. While they had planned a flash sheet in the early stages of their collaborative effort, the downtime that the lockdown has afforded them spurred them on to tackle what Onnie refers to as "something more ambitious".
Back to the future
Tattooists across 5 different states in Australia are rejoicing at the recent announcement that they will be permitted to reopen this month.
Fellow artists in NSW can only wait. But they are all confident that when they reopen, whenever that may be, customers will have a worry-free, pleasant experience with minimal risk.
"Tattooing isn't something you forget how to do," says Onnie, as she points out that any good artist out there would constantly "feel some kind of compulsion to make art" – a trait evident in Ruby, Onnie, and Megan alike.
Ruby says that most tattoo studios in NSW maintain very high standards of hygiene and cleanliness, readily equipped with face masks, gloves, aprons and more. And of course, all tattooing equipment is disposable or autoclaved.
While strict precautions are in place to avoid blood-borne disease cross-contamination, the studios that Megan, Ruby, and Onnie operate at will be adding extra protocols to minimise the possibility of transmission of Covid-19.
Ruby elaborates that these protocols include "ensur[ing] there are no more people than necessary inside," wiping down every surface after each customer enters and leaves the studio, as well as hand sanitiser and washing stations that are accessible to all artists and customers.
Onnie looks forward to reopening, but remains sceptical about the safety and hygiene of select tattoo studios around NSW. "I would like to see the focus shift to the health and safety of those getting tattooed, rather than on the criminality of the tattooer," she says, in relation to how tattooists are granted licenses based on criminal checks, rather than skills or safety ad hygiene knowledge. Training to protect against air-bourne pathogens is not required in NSW or QLD, she says, but hopes that "training becomes mandatory and readily accessible to all".
Well, your favourite tattooists are just a phone call or email away. While it's good to look around on Instagram to find someone who suits your aesthetic, you'd wanna hit them up to make sure they're implementing the right safety and hygiene protocols.
While at it, feel free ask them about their hobbies, or how they've been spending their time in lockdown. Remember, when life gives us lemons, true artists make the sweetest lemonade.
Check out australiantattooistsguild.com.au for more information on Australia's tattoo industry and related Covid-19 safety information updates.