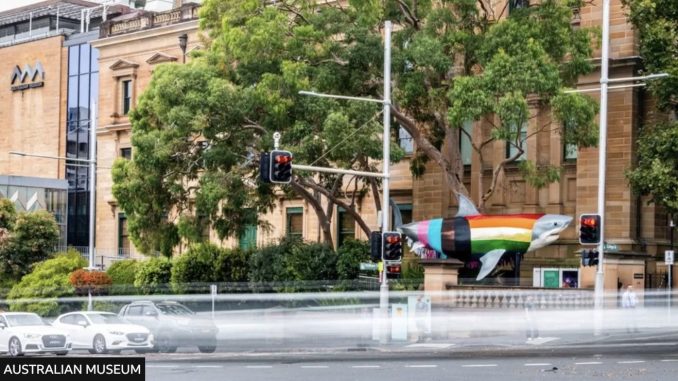 The article is How Progress Shark became Australia's accidental World Pride icon, from BBC NEWS, written by Tiffanie Turnbull on 16 February 2023.
SEO and Content
The headline of this story uses 'the Progress Shark' and 'World Pride icons' as keywords to rank first in Google for the search terms, achieving SEO results.
However, the story is heavily fragmented. The opening paragraph refers to the 'ridiculous' and 'brilliant' shark in an upbeat style.
In the second half of the article, which deals with the history of homosexuality in Australia, the style of the article suddenly becomes serious.

The second part of the news suddenly becomes serious.
In order to improve the usability of the story, the content of the article should be harmonised.
Hyperlinks and Scannability
The news uses three hyperlinks, such as 'Australian police acknowledge hate killings' which leads the reader to a more in-depth reading.
However, there are no subheadings used throughout the text, which makes the article difficult to navigate.
It is recommended that the text be shortened and subheadings added to make it easier for internet audiences to access information quickly.
Multimedia and Interactivity
The news includes pictures and Progress Shark's instagram account.

Hyperlink to Progress Shark's instagram account.
It is suggested that the article could include colourful Progress Shark photos and videos. This will capture the interest of the audience and fit the style of the article.
Also, showing one or two instagram feeds and user comments directly in the news will increase user engagement and thus interaction with the text and audience.