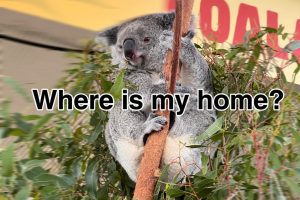 Dear ABC News (Australia) editor:
One day, a koala is holding a eucalyptus tree and chewing on leaves as usual. It slowly lifts its head, looks around, and is stunned by the desolation; the woods were disappearing, and flattened hills stretched as far as the eyes could see. Instead of the chirping of birds, what did the koala or we hear? It is the cacophony of a lumberjack's chainsaw. This phenomenon is commonly known as deforestation, which means humans artificially remove or clear the broad area of trees for cultivation, grazing, and building. 
It might bring us to what will happen to the koala mentioned before after its habitat is destroyed. The answer is that it will die in the short term. In fact, during 1998-2015 in New South Wales (NSW), around 87 million animals were killed due to tree clearing. 
I would like to pitch a feature article for ABC News (Australia) about the impact of deforestation on wildlife habitat and survival in Australia [Report]. I plan to summarize the history of human influences on Australia's nature as an entry point. Take the slow but significant decline in the koala populations because of habitat destruction, fragmentation, and modification as an example to relate the topic of deforestation and turn the perspective into modern society in Australia. The story will then follow three states, Queensland (QLD), NSW, and Western Australia, to figure out the causes and effects of deforestation and expand the species of animals and plants covered. Finally, to enrich this article, it will also touch on some methods of protecting forests and native animals. 
This story will fit ABC News (Australia)'s target audience well because it is a significant public issue in Australian society, and the environmental problem is a hot topic among contemporary young adults aged 18-35. 
The feature is timely in light of the Australian government officially listing the koala as an endangered species on 12 February 2022. Although the regulation of bushland cleaning began in the late 1990s, the destruction of trees and forests continues. This story will be considered as proximity to prevent koalas from heading down the road to extinction and reduce the number of other species being listed for evaluation. 
The primary interview will be with Dr. Valentina Mella (valentina.mella@sydney.edu.au), who aims to research practical solutions to achieve effective long-term conservation management actions to help koalas. In addition, Professor Christopher Dickman (chris.dickman@sydney.edu.au), an expert in the investigation of factors that influence the distribution and abundance of terrestrial vertebrates, will be on the interview list. 
To ensure the high multimedia of the story, there will be embedded a YouTube video about the tragedy – of climate change caused by deforestation to dig deeper into the reason animals lose their homes-bushfires. Some images show the surviving koalas from losing their habitats, and one to two tweets about people's opinions on deforestation. Regarding interactivity, the comment zone will open to everyone, and the link to timelapse in Google Earth will be provided. 
Thank you for your time. Please let me know if you are interested in this story!
Kind regards, 
Nuo Chen