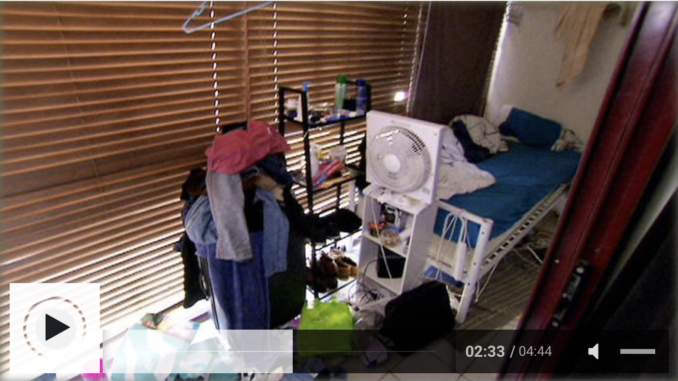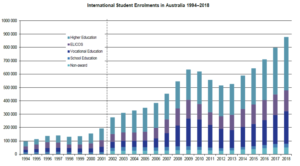 According to the Department of Education and Training, more than 850,000 international students enrolled in 2018, and the number is still growing. In addition, Chinese students made up the largest percentage of it (Department of Education and Training, 2018). However, these Chinesestudents are underserious stress brought by the overcrowded living environmentand high rent.
Angles and Newsworthiness
More than 90% of the students were renting privately and around 5% chose to live in commercial accommodation in Sydney (Savills Market Report, 2017).

Also, according tothis report, an increasing number ofstudents startedto live far away from campus because of the unaffordable accommodations nearuniversities (Savills Market Report, 2017). Meanwhile, Anglicare Australia and The National Union of Students (NUS) carried outa joint survey in 2017 about students'housing situations.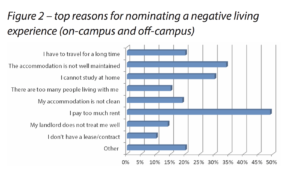 Many students hadnegative living experience and the mainreason wasthat they were paying too much.Andeven10% of the students didnot have a formal rental contracts (Ebsworth & Molloy, 2017). Due tothese reasons, many Chinese oversea students are now living offcampus and chooseto share rooms with others for lowerrent.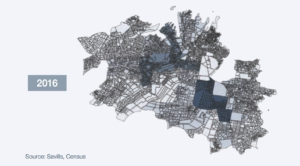 Although the government punished illegal rentalmarket in 2015 (Han, 2015), there are stillstudents living in overcrowded apartments and having signed risky rental contracts. According to the newsworthinessabove, the angles of this news will include:
The actual living conditionof Chinese students who livein overcrowded
The risks of rental contracts that Chinese students are currently facing in Sydney?
Rental agencies' opinionsonofferingthese illegal places and contracts.
Official suggestions onhow to choose a safe and comfortable place.
Current laws in housing rentalindustry.
Publication and Target Audience
This feature story will be publishedon The Sydney Morning Herald, since it has more than 7.6 million readership and it focuseson high-quality news in Sydney, NSW and the whole country. Furthermore, itstarget audience are Australian who want to read independent journalism with high quality, especially male aged 45-64 withhigh income level (The Sydney Morning Herald, 2019).
Narrative and Techniques
This will be a feature story that mixesinterviewsand rich sources. Chinese oversea students, rental agencies, legal professionals, and other relevant experts will be interviewed. Also, the data of international students and their housing situations will bepresented. In addition, suggestions and new regulations published by the  government will be included.
This story will be told froma Chinese student's angle, with GIF pictures and interactive H5 web pages. I also want to setthe interview recording as background music to mimic story-telling. Besides, graphs will be shown to present data and there will be hyperlinked to provide evidence. Moreover, the video shot by SBS will be citedin this article to show the real overcrowded living environment (I will change it to my own work if I can shoot a short one).
Keywords: Chinese students, rent, overcrowded
Reference
Blakkarly, J. & Mackenny, L. (Interviewer). (2018, March 23). Interview with. Ramonde Wong. In The people in a two-bed unit: International students living in 'squalor'. [Broadcast]. Sydney, Australia: Special Broadcasting Service.
Department of Education and Training. (2017). International student enrolments in Australia 1994-2018. Canberra, Australia: Author.
Ebsworth, I. & Molloy, J. (2017). Student housing survey. Retrieved from Anglicare website: https://www.anglicare.asn.au/docs/default-source/default-document-library/anglicare-nus-report.pdf?sfvrsn=0
Han, E. (2016, June 16). Illegal accommodation: City of Sydney cracks down on. black market syndicates. The Sydney Morning Herld. Retrieved from https://www.smh.com.au
Savills Market Report. (2017). Australian Student Accommodation. Retrieved from. Savills website: http://www.savills.com.au/publications-pdf/savills-student-accommodation-market-report-2017.pdf
The Sydney Morning Herald-Media Kit 2019. (2019). Retrieved April 19, 2019, from https://www.adcentre.com.au/wp-content/uploads/2017/08/The-Sydney-Morning-Herald-2019.pdf
 Comment link:
Australia expected to accept 10 million foreign tourists in 2019: Chinese tourists still occupy the main market