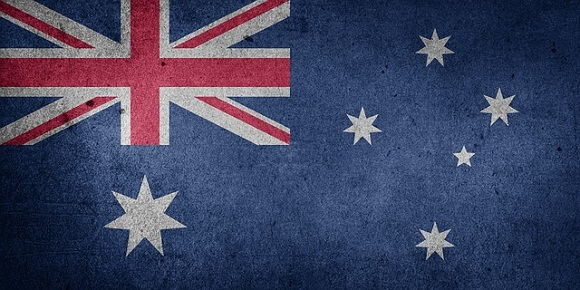 "Have you find a job?" "Are you going to stay in Australia or go back to China?" Those are the common greetings among Chinese students in Australia who are going to graduate in 2019.
"I am hesitating," said Sabrina, a postgraduate business student from Sydney University. "Everyone around me is leaving or decides to return to China." Because of the strict migration policy now, it is hard to get enough visa passing score.
For Chinese students who want to stay in Australia after their Student Visa expires, they need to apply for the Temporary Graduate Visa (subclass 485) for a 2-year extension to stay and to gain overseas work experiences.
During these 2 years, people who want to become immigrant needs to prepare material for the work-stream PR (Permanent Residence Visa) and gains scores up to 85/100. Each of the required materials equals 5 to 10 scores. To achieve the passing score, immigrants need more materials than before.
In this case, current Chinese students in Australia, who want to stay in Australia, are anxious about finding a job and preparing visa applicant before leaving college. Parts of this pressure comes from the gradually strict immigration policy.
Another postgraduate business student Kelly from Sydney University decided to stay in Australia for work experience and then back to the home country, "The material is not hard to collect for Temporary Graduate visa, but there are still too many things to deal with, making me feel stressful."
Data from the Ministry of Education of China
Under the pressure of stay in Australia, a number of Chinese students choose to return to China. With the increasing number of Chinese students go aboard, there are more of them going back these years.
According to the report of the Ministry of Education in China, the number of Chinese overseas students return to China increases annually, due to the migration laws become strict in America and most European countries. It happens to Chineses Students in Australia in recent years.
The Ministry of Education of China published 2018 Statistics on The Situation of Chinese Overseas Students in only Chinese version on 27 March 2019. It infers 519,400 students returned in 2018 which increases 8% from the number in 2017.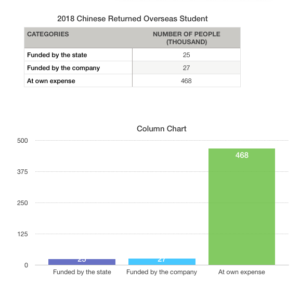 This indicates the growing number of returned students. However, this report also states that there are 662,100 Chinese students go aboard for studying includes 596,300 students at their own expense. It is 8.83% more than the number in 2017.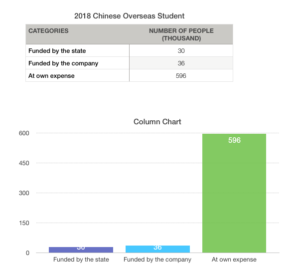 It means the basic number of students going out is also increasing each year. So after those students graduate, the increasing number of returned students is not obvious. At the same time, it does not mention the methodology of calculating the outgoing and incoming number of people.
Apart from this, it is clear that the pressure life of Chinese international students in Australia still exists, due to the decreasing annual immigration quota and the increasing migration application pass score.
Changes in the Migration Program
After the most common applied skilled occupation visa 457 is abolished by the Turnbull government on 18 March 2018, the migration laws start to tighten. In 2019, the Morrison government decided to cut the migration cap from 190,000 to 160,000 and will launch the regional migration policy to release the high population in cities.
(Source from Nine News Australia, 20 March 2019)
The Morrison government said immigrants bring problems as overcrowded, job seizure and housing affordability.
Additionally, the work visa which named skilled migration visa program includes the Temporary Work Visa have changed applying condition and start to effect on 11 March 2019.
Kelly said "As international students, we cannot do anything to stop this trend. If international students want to immigrate to Australia, they need to consider the cost carefully."
What Chinese Students are Facing
Under this circumstance, Chinese students in Australia especially postgraduate students face making options of return China or stay in Australia.
For students who study in Australia for less than 2 years, if they do not study a further semester. They have no chance to stay in Australia but to return home counties for job seeking. In China, graduate students will face high competing and working pressure in large cities as Beijing, Shanghai and Guangzhou.
For students who study more than 2 years major, they need to choose a major on skilled occupation lists like accountant, actors, accommodation and hospitality Managers. Otherwise, they must take extra classes outside.  
Through the interview of Sabrina, the passing score of PR visa increases because of the limited migration quota. So she has to take an extra PY (Professional year) class to gain another 5 scores.
It will take 8 months for studying and 3 months for the internship. For the financial part, take accounting PY as an example, it will cost over AU$7200 for the course totally. This is just the course tuition, considering the high rent fee and living expense in Sydney, it is a high cost to gain only 5 scores.
"This is actually wasting time and let me start to doubt the value of studying in Australia," she said.
The first visa those international students with required skills can get is the 2-year Temporary Graduate visa. During this period, those students need to find a job or internship, they have to prepare materials including language level proof of IELTS or PTE test, additional certificate like NAATI, and professional certificate like CPA.
In order to stay in Australia, the main issue for those graduate students is finding a suitable job. Due to the changes in migration law these years, less local companies open opportunities for international students.
"What is worse is that graduate students still have full-time classes in the last semester which makes it impossible for them to do an internship or even find a job in this period," said Sabrina.
Universities usually announced they offer career workshops and graduate fairs for graduate students to find a career. But do these activities really work? Do they release the pressure of international students to find a local job?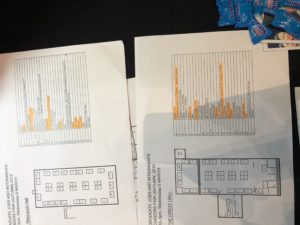 "Through the opening of many career's skills workshop in recent years, Sydney Uni has improved a lot in the training of international students' job-seeking skills." Sabrina said, "However, the actual number of jobs offered to international students are still little and there is not much improvement."
She infers that even the college hold career affair for students, but the majority of companies do not provide jobs to international students.
The immigration law changes lead to the number of international students return to home countries. Even students who want to stay a further 2 years for overseas working experience, there are facing difficulties of high cost, finding a worthy job and even time wasting.
As Chinese students contributed the largest share of school enrolment in Australia, they take up the majority of Australia education income from international students. If Chinese students considering start to considering the value of study in Australia, they may choose other countries like the UK or Canada instead and this will absolutely decrease the educational income.
As the Morrison government prefer short-term education income than the long-term one. Chinese student in Australia will keep facing those migration difficulties and stress in the near future.
If you are trying to apply a long term staying visa in Australia, here is a visa points calculator from the Department of Home Affairs of the Australian Government.