People Are Calling On The Government To Pay Casual Workers Who Miss Work Because Of Coronavirus
News Link: https://junkee.com/casual-workers-coronavirus-quarantine/245980
The first issue with the news story is the choice of feature picture. The Twitter screenshot with the background does not create a strong emotion. I will replace it with a picture like "union people having a meeting." The structure of the news story is also not well organized and does not follow the "invert pyramid." I will put the paragraph starts with "Unions are now calling…" to the first paragraph to tell readers "who, when, what, where" first, then start to tell the story of the man who worked at Hobart Hotel.
This news story includes a lot of Twitter screenshots to show how people react with the issue that casual workers forced to work during coronavirus period, but I will delete some of the 8 Twitter because there are too many. Those with very few likes and comments should not be included because they are not as credible and authoritative.
The other thing needs to be improved is the position of sharing. As figure 1 indicates, the sharing to other social media platforms is right below the headline. No one will share the news before they read the content. I will make it move when people scroll down, or at the bottom of the body.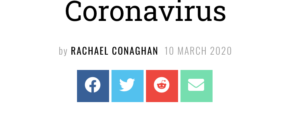 The related news stories located at the right of the headline are not relevant at all. As figure 2 shows, only one of these six news stories is political, but still not about coronavirus. The rest of them are all about popular culture. I will link to news stories that are more relevant.