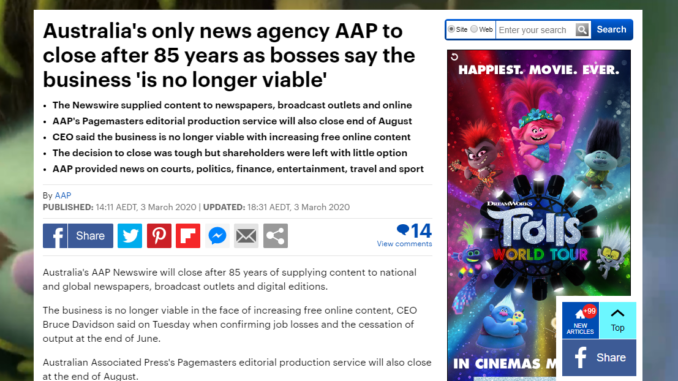 Australia's only news agency AAP to close after 85 years as bosses say the business 'is no longer viable' as featured on Daily Mail Australia.
Overwhelming Multimediality
This article suffers from multimediality overload, emphasising images and videos over text. For an article with less than 500 words, contained within are a whopping 11 images and two videos that appear sequentially – all of which are visually uninteresting and repetitive. This doesn't include the surrounding bombardment of advertising. An easy improvement would be to reduce the amount of images to avoid repetition.
Limited Hypertextuality
Hypertextuality is non-existent within this article; the only link provided is the author's name, which is anonymously stated as "AAP" only, and links to other contributed articles from the press agency. Within the article there are no hyperlinks to other sources or sites. Adding links to the closure announcement and related coverage would add credibility.
Scannability Shortcomings
The written content is lumped together into two sections before and after a barrage of photos. This ordering of content impairs scannability for the user as the layout is seemingly unending and tiring to the eye. It would be advisable to rebalance the layout of the article so that the text is evenly distributed in comparison to accompanying imagery.