This story from the Australian informs users have several drawbacks of its online delivery.
The image in the news is irrelevant to its caption and ineffective in telling the story.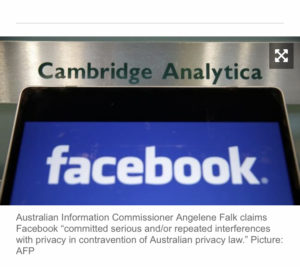 As is seen in this image, the caption is about a quote from Australian information Commissioner. However, the image has hardly any connection to the commissioner. It only shows users the spelling of the two companies.
When the news explains how Facebook's default setting has helped disclose personal data, it fails to explain that by illustrations. As a user, I feel a little lost here.

2. The links in the news are not embedded, costing more time for users to find more about the context.
There is a whole paragraph talking about how Cambridge Analytica infringes privacy in other countries. But no embedded links were used. Users have to scroll down to the middle of the text to find relevant links. The links, although has titles and can make sense on their own, take users more time to build the connection.

3. Interactivity
This news can be easily shared on social media platforms by clicking buttons. And the author can be traced to the author page and the author's twitter. But no comments can be made on this site, so the interactivity is compromised.