News story 1:Afghanistan: Hopes fade as universities reopen without women(BBC online)
The BBC news online histories and the production context
The BBC is the world's leading public service broadcaster.BBC news online is a news web launched by the BBC in 1997. Lord Reith, the first director general in the 1920s, identified the principles of public service duty as "inform, educate and entertain".This principle still inform the BBC's practice today, including news, online news and radio(The BBC,n.d).
The BBC group structure comprises Public Service Broadcasting(PSB) activities and commercial operations. The PSB part of the BBC provides content in return for a license fee. BBC news online is also part of PSB(NAO,2022).

Source 1:https://www.nao.org.uk/wp-content/uploads/2022/11/departmental-overview-the-bbc-group-2021-22.pdf
The online consumption of digital news is growing steadily since two-thirds of adults take it as their main way for news reading and downloading. Online news media are now the second most popular source of news information in the UK after Television.With the concerns about misformation growing, viewers are more likely to turn to reputable news sources. And traditional news sources are generally considered to be more trustworthy. BBC news online was regarded as the most popular news brand in the UK in 2021. A study showed that 46% of people said they accessed it for news information every week during February 2021(WJEC,2020).
Writing and content production
If an article is a long feature, consider chunking. Chunking can process the long article into smaller pieces, and each with a particular focus. Chunking has many advantages, including easy reading, increased chance of each part of the article being found and more opportunities for search engine optimization(Bradshaw, P & Rohumaa, L,2018).
And for the BBC long news article structure, the interview of the female and male students is in a paragraph without subheading. The use of subheadings can signal the content to come and let readers enter into the text through the points(Bradshaw, P & Rohumaa, L2018). Splitting them into two sections makes the structure clearer and easier to read.
The BBC article posted three pictures of students studying life conditions in Afghanistan. These three photographs are identified as being attributed to AFP, REUTERS and EPA. Each picture specifies a description of the picture content(Who, where, what and when). Photographs are effective in telling the visual story. It is more convincing for readers to trust the news's authenticity. Recognizing the potential ethical dilemmas involving ownership, copyright and fair use is essential. Sharing is part of the culture, so there are "All Rights Reserved" to "Some Rights Reserved ", which helps to protect the creator and owner rights(Briggs, M,2009).
Even though these pictures were shot from both sides of male and female's perspectives and disclosed actual situations to some extent, video media should be added to make audiences feel such tension and pain in Afghanistan. Videos containing sound and timeline are more dynamic than pictures. And it is easier to engage audiences in the news story and the event itself. However, the use of multimedia should be considered ethics. Whether or not women in Afghanistan can be interviewed and voiced on camera depends on the degree of tight or loose social culture.
Technique delivery
BBC news online has a responsive web that can adjust to accommodate different screen sizes to access sorts of devices and platforms. The site also configures tech for live streaming to play the BBC news television channel and embedded audio and visual news(WJEC,2020).
Online delivery
Except for the share link, there are no other social media sharing access point embedded for readers to share on their social media platforms. And there is also no journalist's personal information introduction for readers to interact with. Since it is a long news story, it should be added a button of "return to the top" on the right side for the reader to return.
News Story 2: Is the poisoning of schoolgirls in Iran a new front in the war against girls' education?
The Conversation histories and production context
The Conversation is a unique collaboration and online leading publisher between academics and journalists for publishing research-based news and analysis. Professional editors enrich knowledge and insights for news stories, turning them into easy-to-read articles for readers. The Conversation aims to provide access to quality explanatory journalism essential for a healthy democracy. The Conversation funding is from partners from the university and research sector, some philanthropic organizations and more than 20,000 individual donors(The Conversation,n.d).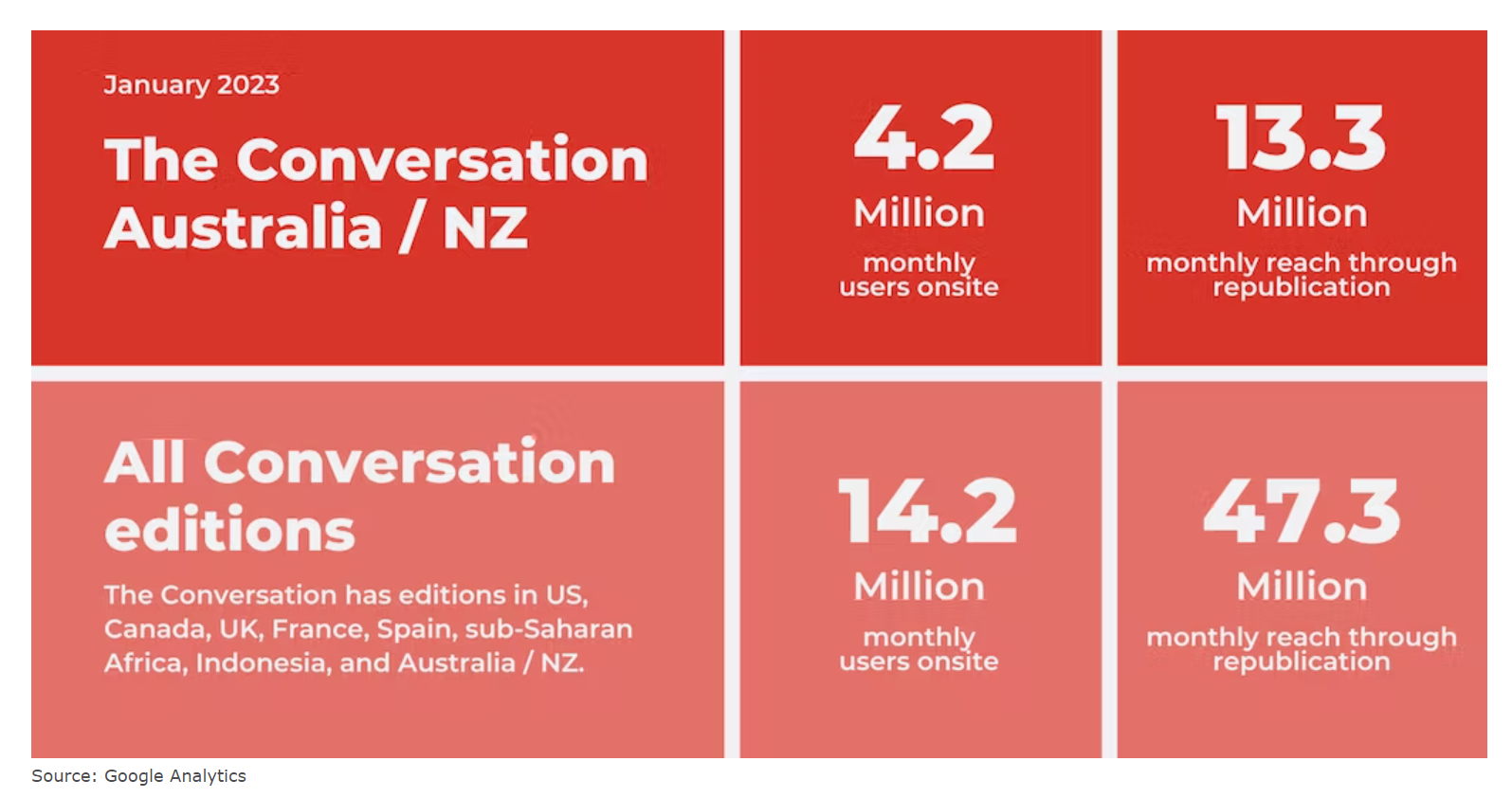 Source 2:https://theconversation.com/au/audience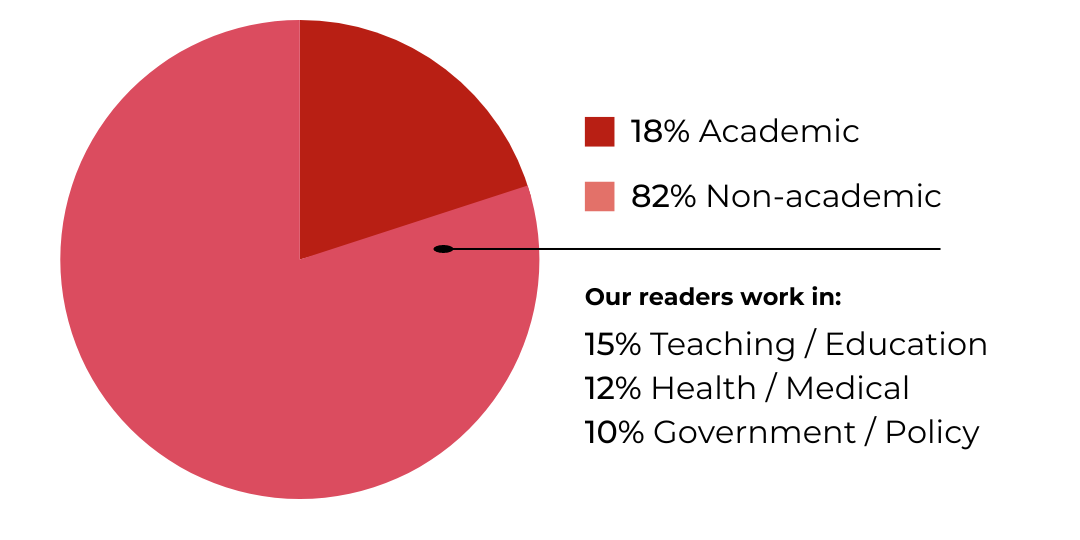 Source 3:https://theconversation.com/au/audience
There are 4.7 million monthly unique users to The Conversation Australia on site, and 14.1 million through republication. Readers are an even split between male (52%) and female (48%). The age of readers skews young, with 68% of readers under 44 years old. 82% of readers are non-academic, which matches The Conversation's vision of sharing academic knowledge directly with the public. The other main groups represented in readership are teachers (15%), healthcare/medical (12%), and government/policy (10%)(The Conversation,n.d).
The Conversation is a knowledge-based journalism online platform, dedicated to providing responsible, ethical and supported news stories. Compared with legacy journalism, which only conveys and delivers the event itself, The Conversation focuses more on the behaviour and attitude changes underlying the events, and how to apply academic knowledge to help provide professional and sustainable solutions.
Writing and content production 
The Conversation article is a commentary. It takes hourglass format to tell the story. In the beginning, the article introduces the chemical attack on the schoolgirls, who are key figures in the news. The article then reveals the impact of the vicious event on the global threat and women's education. It is an essential skill for a journalist to unfold and discuss this aspect in detail, that is, to identify and pursue a story angle that is important for readers or some angles which are not so known and understood, rather than following the news pack(Johanna, S,2020).
The article has various multimedia practices, such as photographs, videos, links and embedding Twitter posts. These authoritative multimedia sources come from APP(Associated Press of Pakistan), CNN and AI Jazeera English. They can restore the actual background of the event for readers as much as possible. The image's authenticity demonstrates the importance of accuracy, transparency and trust in public discourse(Thomson, T. J, et al., 2022).
Online delivery
The embedding Twitter posts allow readers to directly participate in discussing this social issue through social media, which helps expand the influence to help solve the dilemma of female education.
We can also see the journalist's profile on the right column of the website. Clicking her profile photo will be linked to her personal homepage. Here we can get more personal details and other articles written by her. This access can make readers more convinced about the news and views of the article given by her. Only people who claim themselves professional and elite status through their expertise over these journalistic practices can also claim to have the social, cultural and political authority to talk about social governance. Thus, the discourse of professionalism has been an important part of forming a journalist's professional self-identity. This sense of social authority can intensify credibility and readers' conviction for the news story(Bossio, D,2017).
On the top of the left hand, there is a section of social media sharing access points for readers to share, including Twitter, Facebook and LinkedIn. It is a helpful practice for producing online-friendly news(Johanna, S,2020). It also showed how many sharing times have been done on different social media by the audience. It is an important index for the reader to evaluate this news article.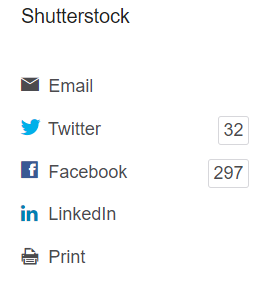 Source 3:https://theconversation.com/is-the-poisoning-of-schoolgirls-in-iran-a-new-front-in-the-war-against-girls-education-201291
Technique delivery
The navigation on The Conversation is easy and clear to access. There is no other advertisement embedded in the article site. Compared with The BBC news online homepage uses many subheadings to chunk different columns, The Conversation homepage stuck all the reading articles on the homepage and lets readers choose what they are interested in based on the pictures and titles. It is hard to say whose interface presentation is better for the reader. The BBC interface helps readers in a hurry to grab headlines, while The Conversation can allow time-free readers to choose what interests them.
Conclusion
The BBC news online is legacy media and The Conversation is digital-born media. The BBC news online is based on The BBC group, so it can easily configure its advanced media technology, such as podcasts, live streaming, and correlated external access for readers to quickly get information. With the endorsement from the BBC group, readers are more likely to choose and trust it as the main news media. The Conversation is an online publisher majoring in delivering news and academic knowledge. It has no advanced media technology support compared with The BBC, mainly text and external resources. But its efforts to present and deliver news-based expertise and construct and manage academic content are impressive.
Word count:1451
References:
Briggs, M. E. (2009). Visual Storytelling with Photographs. In Journalism Next (p. 142–). SAGE Publications. https://doi.org/10.4135/9781483330860.n7
Bradshaw, P., & Rohumaa, L. (2018). Writing for the web. The online journalism handbook : Skills to survive and thrive in the digital age. Taylor & Francis Group.72-98.
Bossio,D.(2017).Shifting Values, New Norms: Social Media and the Changing Profession of Journalism.Journalism and Social Media Practitioners, Organisations and Institutions.Springer International Publishing.111-131.
Johanna,S.(2020). Online Journalism and Storytelling: A training kit.Fojo Media Institute.
National Audit Office.(2022). The BBC Group Departmental Overview 2021-22.https://www.nao.org.uk/wp-content/uploads/2022/11/departmental-overview-the-bbc-group-2021-22.pdf
The Conversation(2023, March,22).Who we are.https://theconversation.com/au/who-we-are
The Conversation(2023, March,22).Our audience.https://theconversation.com/au/audience
The BBC(2023, March 22). History of the BBC.https://www.bbc.com/historyofthebbc/research/directors-general/john-reith.
Thomson, T. J., Angus, D., Dootson, P., Hurcombe, E., & Smith, A. (2022). Visual Mis/disinformation in Journalism and Public Communications: Current Verification Practices, Challenges, and Future Opportunities. Journalism Practice, 16(5), 938–962. https://doi.org/10.1080/17512786.2020.1832139
Welsh Joint Education Committee.(2020).WJEC Unit 1: News in the Online Age Fact file: BBC News Online.https://resource.download.wjec.co.uk/vtc/2020-21/el20-21_2-7a/eng/4-fact-file-bbc-news-online.pdf
Source 1:National Audit Office. (2022,November). Some examples of well-known services provided by the PSB Group include:
[Screenshot]. https://www.nao.org.uk/wp-content/uploads/2022/11/departmental-overview-the-bbc-group-2021-22.pdf
Source 2: Google Analytics. (n.d). Readership.[Screenshot]. https://theconversation.com/au/audience
Source 3: Reader and Author Survey 2022.(2022). Audience+break down+graph. [Screenshot].https://theconversation.com/au/audience
Source 4: The Conversation. (2022). Sharing times.[Screenshot].https://theconversation.com/is-the-poisoning-of-schoolgirls-in-iran-a-new-front-in-the-war-against-girls-education-201291