For this analysis, I will choose two news stories from ABC news and Newsdaily. They both focus on Labor's leader, Chris Minns, who won the New South Wales state election premiership.
ABC NEWS
The Australian Broadcasting Corporation, Australia's primary public broadcaster, has a news division called ABC News. (ABC). Since its founding in 1956, the department has grown to be regarded as one of Australia's most reliable sources of news and current events. Like other major news organizations, ABC News Australia operates in a production environment where numerous reporters, producers, and editors collaborate to gather and report the news. The division can cover significant news events from a range of views and perspectives since it has bureaux and reporters in Australia and other countries. ABC News has become more well-known for its coverage of significant events, including the Australian bushfires, the COVID-19 pandemic, and the 2019 federal election. As one of Australia's most prestigious and prominent news organizations, the unit has won numerous honours for reporting and investigative journalism.
The news daily
Australian news and opinion website The New Daily was established in 2013. It was founded by a collection of industry superannuation funds led by Industry Super Holdings to offer unbiased news and analysis to its members and the larger Australian public. The website's editorial staff is composed of seasoned journalists and contributors who offer news, analysis, and opinion pieces on various subjects, such as politics, money, health, technology, and entertainment. The funding structure of The New Daily is exclusive to Australian media outlets. It is not dependent on advertising revenue because it is owned by an industry fund, which enables it to maintain its independence and freedom from external demands. Instead, the superannuation funds that own Industry Super Holdings pay for it. The website's emphasis on economics and finance corresponds with the interests of its visitors, many of whom are superannuation fund members in the business. It also covers various subjects, such as opinion, lifestyle, and national and international news. The New Daily aims to make excellent, independent journalism available to all Australians. It has developed a devoted readership and become a trusted news source in Australia because of its distinctive funding approach and emphasis on audience interests.
The New Daily is an independent Australian news website owned by Industry Super Holdings, owned by a group of industry superannuation funds. ABC News, on the other hand, is owned by the Australian Broadcasting Corporation, a government-funded organization
Target user group and their demographics;
ABC News:
Australians seeking thorough, unbiased, and trustworthy news coverage are the primary target audience for ABC News, a news website owned by the Australian Broadcasting Corporation. Local, national, and international news on ABC News covers politics, the economy, society, culture, sports, and other topics. To reach a wider audience, the website is also available in a number of languages, including English, Arabic, and Chinese.
Data from the Australian Broadcasting Corporation show that Australians over 18 make up the majority of ABC News' user base, with 55% of women and 45% of men. The majority of site users, or roughly 50%, are between the ages of 25 and 54, according to the age distribution. Readers of ABC News also tend to be wealthier and more educated. The majority of them earn more money and have college degrees or higher.
The new daily:
The New Daily publishes news, current affairs, and opinion pieces for a sizable segment of the Australian population. Although the website was first developed to offer unbiased news and analysis to participants in industry superannuation funds, it has subsequently expanded to target a wider audience. The readership of The New Daily is roughly evenly split between men and women in terms of demographics. Most of its audience is over 35, with the most extensive age range between 45 and 54. Additionally, users with better incomes and educational levels make up a larger portion of the website's readership. Readers interested in these subjects find the website particularly intriguing because of its emphasis on finance and economics. However, it also covers a wide range of other topics that draw in a wide audience, such as lifestyle, national and international news, and opinion pieces. The New Daily's target market is a large group of Australians interested in high-quality, independent journalism that personally addresses various issues that are important to them. It has developed a devoted readership and developed into a trusted news source in Australia because of its distinctive funding approach and emphasis on audience interests.
Data source:
ABC News: The data comes from the Australian Broadcasting Corporation's "ABC News and Current Affairs: Audience Profile" report, published in 2022.
The new daily: Data from The New Daily's annual report for 2022.
Compare these two stories from ABC news and the new daily. We can see that the visuals they use are different. In the new daily story, only two videos were used, each about a minute long. This kind of video from the scene can prove the timeliness of the news.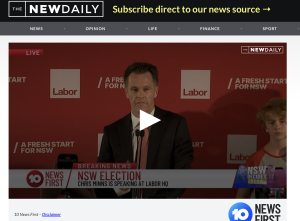 But in this ABC news story, there are photos of Chris Minns at various points in his resume. It gives readers a better idea of the incoming premier of New South Wales. Compared with the new DailyDaily, the ABC news report is more comprehensive.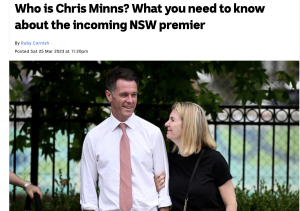 Although the main information is presented at the opening of each news report, both use an inverted pyramid structure. However, readers have consistently chosen to go to conventional news sources. Because their layout is consistently eye-catching and their news authenticity and content correctness are always greater. This ABC News report examines Chris Minns' early political ambitions, religious convictions, and entry into politics in 2015. Additionally, Minns' ambitions for the New South Wales Labor Party are discussed, including an emphasis on the economy and jobs.
Finally, he briefly discusses a few of his passions. The reader may now view him as a relatable and emotional person rather than a detached political figure as a result of this news report. This news article from The New Daily examines the recent leadership transition in New South Wales, where former premier Gladys Berejiklien resigned, and Dominic Perrault was appointed as her replacement. This article talks about how Perrottet's unexpected appointment signifies a big change for the New South Wales Liberal Party. The Australian Labor Party's response to Perrot's appointment is also covered in the story. Chris Minns expressed surprise at the choice and vowed to keep the new prime minister accountable.
The importance of interactivity in online journalism is increasing as it develops, much like the importance of motion pictures in television. Online journalism interacts with information by allowing people to share it and by integrating connections and media to make intersections possible. Both news organizations allow users to copy links with a single click and share them on other social media sites. Under the headlines and news graphics on ABC News, there are one-click copy links and share buttons, which are most noticeable just before the content starts. Additionally, readers are expected to share news articles on social media sites to increase their exposure rate.

For new websites like the new daily, it is more important to expand the size of the audience and improve their exposure.
Therefore, in addition to mainstream social platforms such as Facebook and Twitter, the new daily can republish news to Reddit and Pinterest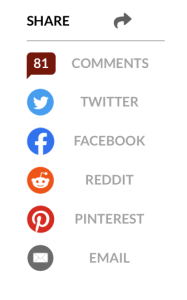 Another clear distinction between the two news websites is that the DailyDaily has a dedicated comment section, while ABC News cannot post comments. Users can interact with news platforms or journalists while expressing their opinions or making ideas about the news. Large news organizations, like ABC News, place more emphasis on content outpu.t.
The comments area of the news article draws readers in. It makes an effort to see conversational engagement as a mutually advantageous existence because interactivity is one of the most distinctive qualities that attract online journalism (Ksiazek et al., 2016). (Martin & Murrell, 2021). Because the invader is constantly the news industry's focus, great news, whether spectacular or instructive, must spark debate. (Bradshaw, 2017, p. 82).
Conclusion:
Anyway, whether it's ABC News or the new daily. Television articles provide the latest news on the New South Wales election. Although the two articles cover similar content, the information is presented differently based on the different user groups on the two platforms. It provides a comment function that allows users to express their own opinions, in terms of user interaction is better. ABC News news content is more effective, and the way it is written is more rigorous. This is very much in keeping with the nature of their service.
Word count:1428
Reference list:
ABC Annual Report. (2022). ABC Annual Report 2021-2022. About the ABC. Retrieved March 21, 2023, from https://about.abc.net.au/reports-publications/abc-annual-report-2021-2022/
Bradshaw, P. (2017). The online journalism handbook: Skills to survive and thrive in the digital age. Routledge.
Cornish, ruby. "Who Is Chris Minns? What You Need to Know about the Incoming NSW Premier." ABC News, 25 Mar. 2023, www.abc.net.au/news/2023-03-25/who-is-nsw-incoming-premier-labor-s-chris-minns/102142266. Accessed 27 Mar. 2023.
Ksiazek, T. B., Peer, L., & Lessard, K. (2016). User engagement with online news: Conceptualizing interactivity and exploring the relationship between online news videos and user comments. New media & society, 18(3), 502-520.
"NSW Labor Prepares to Govern as Liberals Soul Search." The New Daily, 25 Mar. 2023, thenewdaily.com.au/news/politics/2023/03/26/nsw-election-labor-win-perottet-stands-down/. Accessed 27 Mar. 2023.
Martin, F., & Murrell, C. (2021). Negotiating the conversation: How journalists learn to interact with audiences online. Journalism Practice, 15(6), 839-859.
The New Daily (2022, November 10). The New Daily's record growth as annual revenue reported. The New Daily. Retrieved March 21, 2023, from https://thenewdaily.com.au/finance/finance-news/2022/11/10/the-new-daily-record-growth-revenue/