ABC News: abc.net.au/news
Publishing Context
ABC News is the news department of the Australian Broadcasting Corporation (ABC), which is one of the largest news organizations in Australia. Its coverage encompasses various aspects of news, politics, economics, society, culture, and sports both domestically and internationally. Additionally, ABC News also covers special reports, in-depth reporting, and investigative reporting. ABC News has an online news website, which provides real-time news coverage, news analysis, feature reports, video reports, and blog posts, among others. Furthermore, ABC News provides news coverage on social media platforms, such as Twitter, Facebook, and YouTube.
ABC News is an integral part of Australia's cultural and societal framework. Since 1932, ABC has been a part of the Australian media. Throughout much of its existence, it has been competing with a few commercial media suppliers for radio and television audiences (ABC, 2014).
Target users group
ABC News is an indispensable part of the lives of millions of people, with over 70% of Australians aged 18 and above using ABC every week. And nearly 4 million Australians watch ABC News every week. To ensure ABC's future, the organization is determined to continue to be an audience-centric, content-driven media organization (ABC, 2014).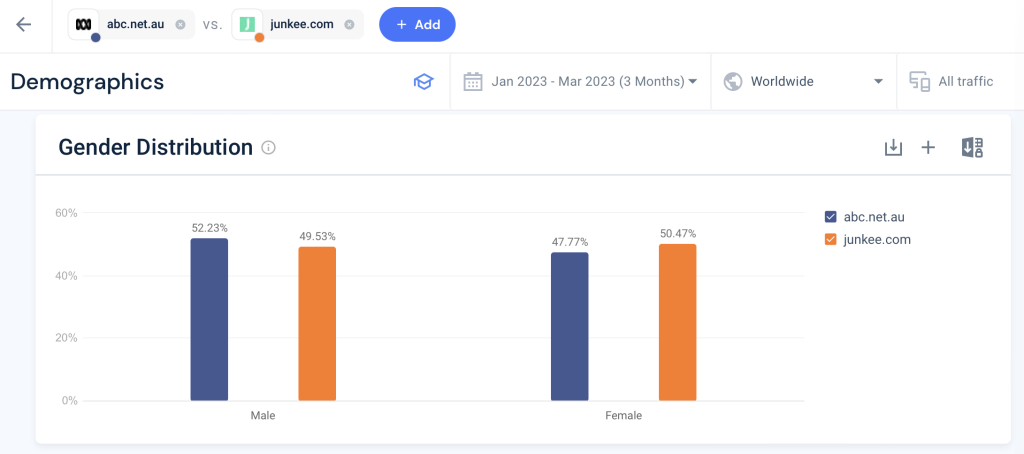 Source: https://pro.similarweb.com/#/digitalsuite/websiteanalysis/audience-demographics/*/999/3m?webSource=Total&key=abc.net.au,junkee.com
Based on the data comparison in the above graph, it can be observed that the proportion of female viewers is higher than that of male viewers for ABC News, and the age distribution of ABC News viewers is predominantly within the range of 25-44 years. Although the number of Junkee's viewers is much lower than that of ABC News, the proportion of viewers within the age range of 18-34 years is higher than that of ABC News. Compared to Junkee, ABC News has a more mature audience, while Junkee caters to a younger demographic.
ABC News: Federal government pledges 30pc of all land for conservation to protect threatened species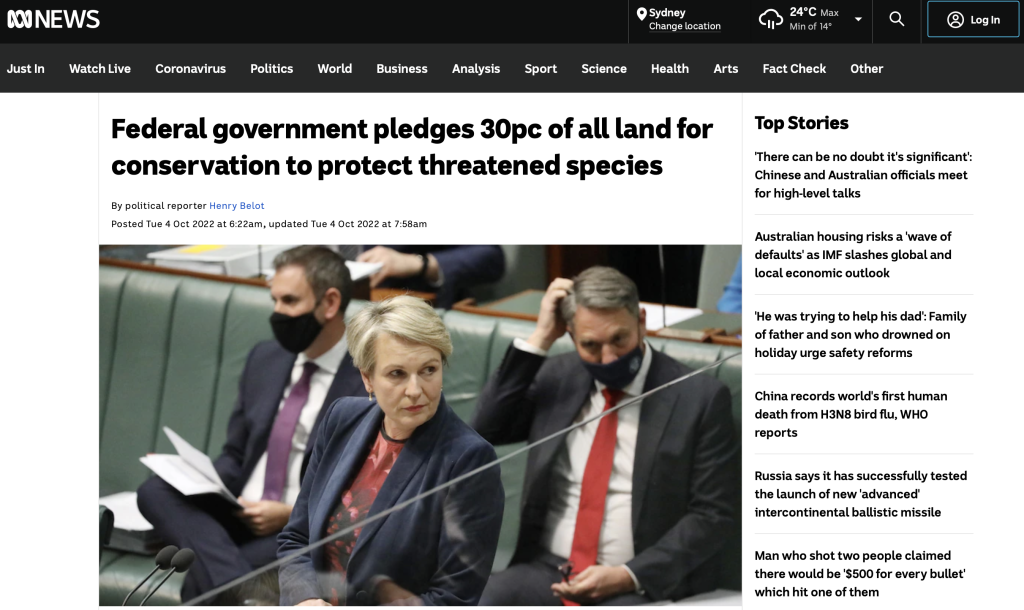 https://www.abc.net.au/news/2022-10-04/federal-government-pledges-30-percent-land-for-conservation/101498000
Writing and Content Production
The article's headline, 'Federal government pledges 30% of land for conservation', effectively communicates the primary focus of the piece. The headline, introduction and body of the article highlight the importance and significance of this commitment, thereby underscoring the event's significance.
Furthermore, the article employs lucid and succinct language and sentence structures, facilitating readers' comprehension of the article's content. The use of data and quotations enhances the article's credibility and persuasiveness.
Additionally, the article considers the readers' interests, particularly those who are concerned about the environment and nature conservation. The article offers a detailed account of the commitment's specifics and plan, along with quotations from various environmental organisations and political figures, providing a nuanced perspective on all parties' views and attitudes towards the plan.
To summarise, the article is informative, coherent, utilises clear and concise language and sentence structures, and considers the readers' interests and needs. The article provides comprehensive, objective coverage of the Australian government's commitment and offers readers detailed and relevant information.
Hypertextuality, Multimediality and Interactivity
In this news article, hyperlinks are used relatively sparingly, with only two image links and one text link. It would be beneficial to add a moderate number of hyperlinks to enhance the readability of the news. For instance, key terms or policies mentioned in the article can be linked to relevant definitions or policy documents to aid readers in better understanding the content. Hypertext, through linking, connects information non-linearly, allowing readers to browse and interact with information in a more dynamic way. Hyperlinks not only guide readers to related content but also enhance the readability and depth of the article (Bradshaw, 2018).
The news includes some images and a video, making it more vivid and engaging. The realistic depiction of the disappearing animals in the video helps readers understand the importance of environmental protection. Internet articles are no longer just a combination of text and images but can also include multimedia elements, such as audio, video, and animation. These multimedia elements can make articles more dynamic, interesting, and better able to attract readers' attention, while also providing more effective means to explain and illustrate information (Bradshaw, 2018).
The overall interactivity of ABC news is lacking. Each news article does not have a comment section for readers to express their opinions and questions, and the author cannot interact with readers. Interactivity is one of the essential features of online news, allowing readers to participate in news reporting, share their views and experiences, and thus make news reporting more comprehensive and in-depth. Through readers' comments and feedback, journalists can understand readers' needs and interests and make appropriate adjustments and improvements (Bradshaw, 2018).
Online Delivery

Online delivery is an important aspect of modern journalism as it enables news organizations to reach a wider audience beyond traditional print or broadcast media (Bradshaw, 2018). The news article utilized the function of online delivery effectively by including links to share the article on different social media platforms such as Facebook, Twitter, and WhatsApp in the end.
Technical Delivery
SEO is a technique and method for modifying a website's content and structure to improve its ranking in search engines. Through SEO techniques, digital news media can increase their online presence, attract more readers, and boost traffic. Unlike traditional print media, digital news needs to consider how it can be better identified and presented in search engine results pages (SERPs) (Bradshaw, 2018).
ABC News Australia appears to have a good level of search engine optimization (SEO) and metadata integration. When analyzing the homepage, the titles of the articles are relevant and descriptive, which is essential for search engine ranking. The URLs are also structured in a logical and clear way, allowing search engines and users to easily understand the content of each page.
Junkee: junkee.com
Publishing Context
Junkee is a digital media company based in Australia that was founded in 2013. Its focus is on providing interesting, useful, and in-depth content to young people, covering topics such as culture, politics, society, technology, and entertainment. As a digital media company, Junkee values innovation and exploration, actively experimenting with new technologies and media forms to better meet the needs and interests of young people.
Junkee Media publishes Junkee, inthemix, AWOL, and Punkee. Junkee was awarded Media Brand of the Year at the Mumbrella Awards in its first year due to its unique, insightful, humorous, and wise perspectives on popular culture. Every day, they create content that provides information, captures people's interest, and occasionally entertains them. Their goal is to increase dialogue rather than just make noise. They value the originality of news and commentary, aiming to create content that sparks conversation, adds new perspectives to old topics, and inspires different thinking among young Australians.
In summary, Junkee is a dynamic and creative digital media company that attracts the attention and participation of young people through unique content and diverse formats, while also playing an active role in social responsibility and philanthropy.
Target users group
Junkee's main target audience is young people, whom they attract through novel, humorous, and engaging content. The content style of Junkee is highly distinctive, often taking on popular topics or current events and presenting them with a unique perspective and language style, which has won the affection of young people (Junkee, 2023).
In addition to articles on its website, Junkee also spreads its content through various forms such as social media, podcasts, and videos. Junkee's social media platforms are highly active and have many fans and followers, which has further expanded the company's influence.
Junkee: Tanya Plibersek Pledges "Zero New Extinctions" In Australia with New Environment Policy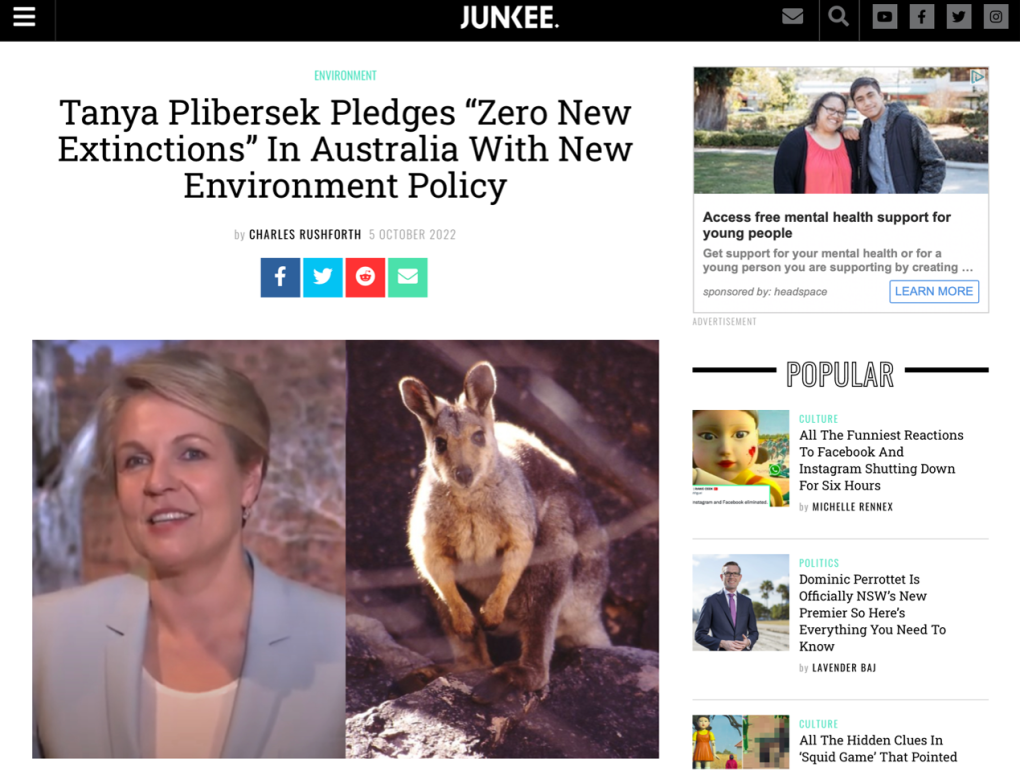 https://junkee.com/tanya-plibersek-extinctions/342541
The article discusses Tanya Plibersek, an Australian MP, expressing her concerns and calls for action regarding the global biodiversity extinction crisis. Australia, as one of the world's most biologically diverse countries, is facing unique challenges. The article cites Plibersek's speech, which includes alarming statistics such as the loss of at least 70 mammal species and over 1700 species at risk of extinction. Plibersek urges the government and society to take more proactive measures to protect biodiversity, prevent species extinction, and contribute to the health and future of humanity.
Writing and Content Production
The biodiversity in Australia is facing an imminent threat of extinction, and proactive measures need to be taken for its protection. The article cites data and facts from Tanya Plibersek's speech, highlighting the severity and urgency of the issue, while calling on the government and society to take action. Although the length of the article is short, it conveys the message very clearly, and also provides relevant background information and context, enabling readers to better understand the importance of this issue.
Hypertextuality, Multimediality and Interactivity
This news story uses six hyperlinks in appropriate contexts. For example, when mentioning the Threatened Species Action Plan, the author includes a hyperlink to its introductory page to provide readers with a better understanding of the context. Hyperlinks can guide readers to more relevant content and improve the coherence and relevance of the text. Through hypertext links and other multimedia elements, readers can engage more effectively with the article, which can increase their engagement and empathy (Bradshaw, 2018).
In terms of multimedia, this Junkee news article is simpler compared to ABC News. It only includes a picture of Tanya Plibersek at the beginning and a twitter kangaroo embedded in the text. The simplicity of the media may make the news less interesting. Additionally, multimedia elements can present news in a more diverse format, attracting different types of readers and increasing their engagement. Multimedia elements can directly convey visual and auditory information, helping readers better understand and remember the content of articles (Bradshaw, 2018).
Interactivity is an essential aspect of news. Unlike ABC News, Junkee has a comment section beneath the news for readers to discuss and voice their opinions. Journalists must be open-minded and establish a dialogue with their readers to understand their needs and feedback, as well as adapt to new digital tools and technologies to enhance interactivity (Martin & Murrell, 2021).
Online Delivery

Junkee's website features prominent links at the top that allow readers to navigate to their YouTube, Facebook, Twitter, and Instagram pages, fully utilizing the interactivity of the internet and mobile platforms. Through these channels, Junkee can directly deliver content to readers and viewers, attracting their interest and attention. Additionally, Junkee's social media platforms are highly active and have many followers, which continues to expand Junkee's influence.
Technical Delivery
Junkee's official website features a variety of tag categories, allowing readers to choose topics of interest and access news content that aligns with their preferences. In comparison to mainstream international news media outlets, Junkee employs a writing style that is more easily comprehensible and supplements its articles with visual aids, such as photos or videos, to provide readers with a more comprehensive understanding of the material (Scout, 2022).
Junkee's parent company, Scout Research, operates a platform that conducts surveys among Australians to gather insights into their perspectives. The resulting data is collated and made available to Junkee and other partner brands. Transparency in the utilization of this data is a central tenet of their research practices, encompassing both the topics of interest to their audience and their activities as a partner brand. The acquisition of information about the community represents a crucial competitive advantage for digitally-based commercial news services (Scout, 2022).
Word count: 1793 words
Reference
Australian Broadcasting Corporation (2014) #OurABC | About the ABC. ABC. Retrieved March 20, 2023. https://about.abc.net.au/speeches/ourabc/
Australian Broadcasting Corporation (2014) Present Challenges, Future Audiences | About the ABC. ABC. Retrieved March 20, 2023. https://about.abc.net.au/speeches/present-challenges-future-audiences/
Bradshaw. (2018). Writing for the web. In The Online Journalism Handbook (2nd ed., pp. 72–98). Routledge. https://doi.org/10.4324/9781315761428-4
Junkee. (2023). About-Junkee. Junkee. Retrieved April 13, 2023. https://junkee.com/about
Martin, & Murrell, C. (2021). Negotiating the Conversation: How Journalists Learn to Interact with Audiences Online. Journalism Practice, 15(6), 839–859. https://doi.org/10.1080/17512786.2021.1907211
Scout Publishing. (2022). Research | Scout Publishing. Scout Publishing. Retrieved April 13, 2023. https://www.scoutpublishing.com.au/research/