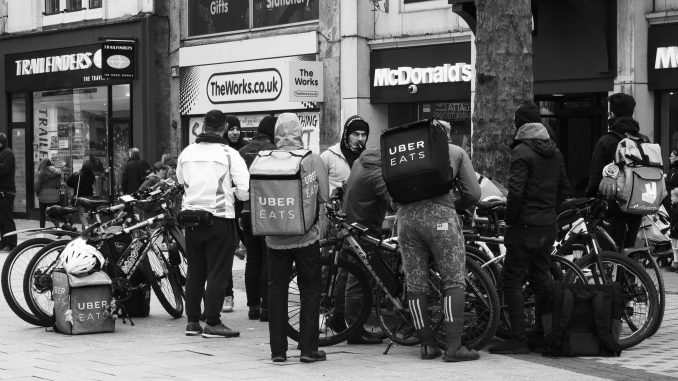 Introduction:
Australia's gig worker economy has experienced substantial growth in recent times, but this has given rise to concerns about the rights of workers. While gig work offers flexibility, it frequently designates workers as independent contractors and excludes them from receiving fundamental benefits like sick leave, workers' compensation, and superannuation. Gig work may also result in inconsistent earnings and job instability, causing financial insecurity. This lack of safeguards makes workers susceptible to exploitation, intensifying inequality. To tackle these problems, it is necessary to explore policy solutions that guarantee equitable and sustainable working conditions for gig workers. This blog post presents a thorough examination of the negative aspects of Australia's gig economy and suggests potential remedies to enhance employee rights and benefits. The aim is to increase awareness and prompt policymakers to take action to ensure that gig workers have access to essential employee benefits and protections.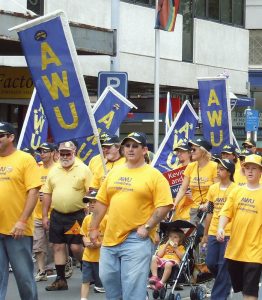 Target Publication:
The target publication for this blog post is The Guardian Australia, the Australian edition of an international news and media website based in Sydney. It covers news on politics, business, technology, culture, and sports, featuring opinion pieces, analysis, and investigative journalism. The post analyzes the gig worker economy's impact on workers' rights in Australia, including issues such as lack of benefits and income volatility, and offers potential policy solutions. It aims to encourage discussion and debate about the gig economy's impact on workers' rights.
Research:
In order to gather more information, I plan to conduct interviews with gig economy workers across various sectors, including ride-sharing, food delivery, and home services. Additionally, I plan to search for speakings of representatives from the Fair Work Ombudsman, the Australian Council of Trade Unions, and the Australian Chamber of Commerce and Industry to gain their perspectives on the matter. One of the topics I will discuss is the issue of misclassifying employees as independent contractors, and potential solutions for regulation will be explored.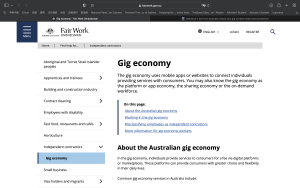 Furthermore, I will review existing research on the gig economy in Australia, such as a recent study conducted by the University of Western Australia. This study focuses on the impact of Deliveroo's exit from the Australian market on gig workers, highlighting the need for better protections for these workers who frequently do not receive basic employment benefits such as sick leave and superannuation.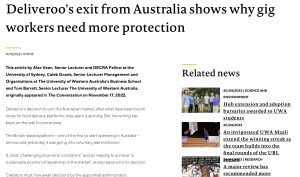 The blog post puts forward the idea that the present regulatory structure for gig workers in Australia is not enough and advocates for policy revisions to ensure that gig workers receive fundamental employment benefits and protections.
Argument:
Although the gig economy offers convenience and flexibility for consumers, it operates by exploiting workers. Gig workers lack adequate regulation and protection, leading to insecure employment, low wages, and exploitation. These negative consequences not only harm individual workers but also have an adverse effect on the broader economy, reducing consumer purchasing power and resulting in lower tax revenue.
Multimedia, hyperlinks & interactivity:
Images from openverse-licensed image on gig economy worker on the job.
Hyperlinks & Attributions:
Data and statistics in this news commentary are based on reports from reputable sources such as:
All interviews will be conducted with permission and attribution.