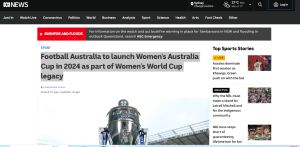 This online story was posted by Samantha Lewis on ABC News on March 10.
Link:https://www.abc.net.au/news/2023-03-10/football-australia-to-launch-womens-australia-cup-in-2024/102080742
Here is the analysis of the news.
Subheading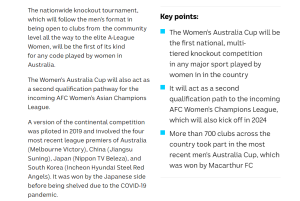 Obviously, to help the reader quickly understand the main points of the article, this article uses Key Points to summarise the three important parts of the news story.
However, the article does not use any subheadings to clearly delineate the three sections of paragraphs for the reader.
This leads to two obvious flaws in the story. One is that it does not allow the reader to grasp the main points of the story as quickly as possible, and the other is that large, undivided passages of text can be uninteresting to the reader.
The Balance of News Stories
The story features quotes from two people, the CEO of Australian Football and the CEO of NSW Football. The voices of the Australian women footballers, who are the protagonists of the story, are not mentioned. Also, no voices are shown regarding the club's side of the attitude mentioned in the story. The balance and veracity of the story may therefore be questioned.
Relevance of The Content to The Heading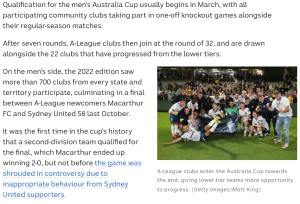 The heading of this news story is women's football, yet it devotes such a long section to men's football that this section is not very relevant to the main idea of the article and also results in an overly long article.
Interactivity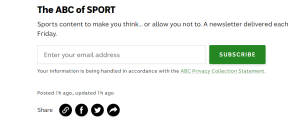 The only two ways readers can interact with this news story are by subscribing to sports news and sharing the link of this article, and there is a lack of comments and interaction between readers and writers.