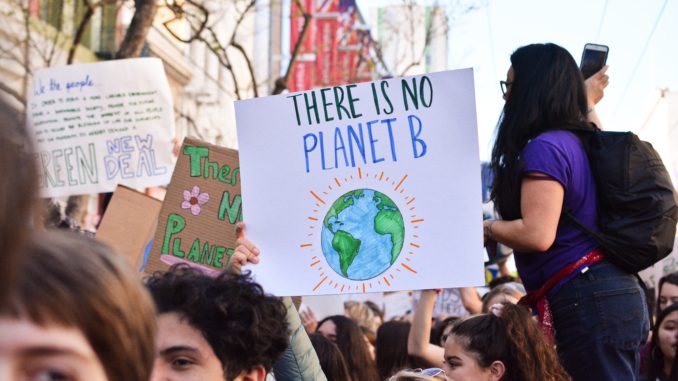 To Lisa Davies (Sydney Morning Herald):
Australia's climate crisis is the most urgent issue facing the nation today and is a crucial point of contention in the lead-up to the federal election. In the wake of crippling drought, the Morrison government's approval of the Adani coal mine, and Labor's proposed cuts to funding of the Great Barrier Reef, not only is public pressure on governments increasing, as seen with the recent youth climate strikes, but many Australians are adopting an eco-friendlier lifestyle to combat climate change.
As the planet deteriorates day by day, individual action against climate change can seem futile. I propose a news commentary addressing the tension between an individual's own carbon footprint and large-scale emissions from big industries, with the central view that while accountability for significant effects of climate change is complicated, the responsibility ultimately lies with the government and big polluters.
I will analyse individual initiatives towards sustainability and a reduced carbon footprint, including the recent 'Mental at Mentos' campaign and the moves towards meat-, waste-, and plastic-free living occurring nationally. These individual practices will be considered against the backdrop of governmental and big-industry advice to Australians to change their lifestyles and take responsibility for their contribution to climate change. I will similarly draw on online sources of statistics, such as the Department of Environment and Energy, on Australia's carbon emissions by category of polluter, to argue my point. To illustrate this better for readers, I will create a graph representing the biggest contributors to carbon emissions in descending order. All sources will be hyperlinked.
While all efforts towards reducing carbon emissions and eco-friendly living are valuable as skills needed to operate within a sustainable future, I argue that individual choices are ultimately insufficient if not backed by industrial, systemic change supported by government legislation.
Currently Australian citizens make up around 12% of emissions at just over 15 million tonnes of carbon per year, whereas energy companies like AGL and Origin are the biggest polluters, in excess of 40 million tonnes per year. The onus on individuals to tackle climate change is often exploited by the government to evade acting on the issue, as seen in the Coalition's recent claim that it is not their responsibility to "tell people which cars they should drive", in response to proposed policies pushing for more electric vehicles.
The most recent report outlining Australia's progress towards the 2030 Sustainable Development Goals Agenda revealed action against climate change was "off track". I plan to interview a sustainability advisor and contributor to the progress report at Sydney University, Sam Mostyn, whose comments on a recent 2030 Agenda panel pushed for individual efforts towards climate change.
The Sydney Morning Herald's readership of over 7 million, with the majority in the 30 – 64 age bracket, will ensure this story reaches a broad audience, most of whom are interested in the issue of climate change. This news commentary will be particularly appropriate ahead of the upcoming federal election, and will be published in time.