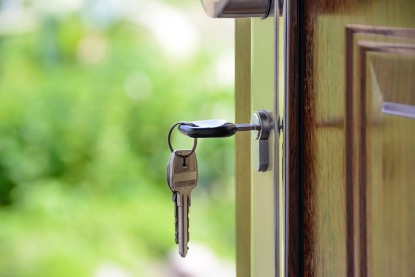 Background
     In December 2022, many universities in Australia planned to cancel the remote course mode and urged international students to return to complete the degree. Meanwhile, China relaxed a series of pandemic measures so that much more Chinese overseas students return to Australia.
     On the other hand, in the post-Covid-19 world, Australia's sluggish economic environment has led to huge challenges for the housing market. Including but not limited to rising interest rates, slowing immigration policies, and supply shortages in the construction industry, renters are not only facing high rents but even experiencing homelessness.
     Thus, under the dual contradictions of the return of many Chinese students and the housing crisis, overseas students faced a serious rental crisis in the first semester of 2023.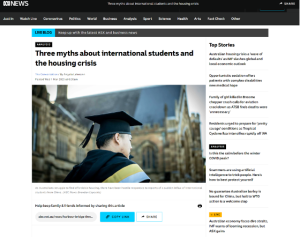 Angle & newsworthy
     It also stimulated greater pressure on renting housing, especially in the surrounding areas of the school, which has triggered the contradiction between the already scarce rental demand. Moreover, due to the lack of information on the new environment, the problem is not only limited to the shortage and higher rent, which has even induced online scams. Therefore, the public interest is how the Australian government, local schools, and institutions should assist international students in safeguarding their interests and rights.
     I will write a feature story by interviewing several Chinese overseas students to investigate their renting experience, including the impact of policy changes and the mental, life, and academic pressures caused by this process. In addition, I also collect data and surveys of the government, colleges, and institutions on how to alleviate these issues.
Publication & target audience
     I plan to publish it on ABC, which calls for diversity in the workplace and content. They serve specific audiences by offering content tailored to different ages, races, and genders. It also provides a platform for the young to stand up for their rights and to speak out. Adhering to Australia's cultural inclusiveness, ABC sets in different languages to serve the public.
     The content I will target young people, especially Chinese overseas students in Australia, so the target audience for my news story is mainly the young. Since the conflict is also related to the Australian rental market and the rights protection of international students, the scope also includes a specific range of tenants and other organizations related to international students and the housing issue.
Source of information
     -Interviewees: Chinese overseas students (to provide first-hand evidence about the actual renting situation).
     –Government documents and news coverages: to collect the data and information about policy dynamics and the housing rental crisis.
     –Universities websites: to learn about measures related to overseas students and housing options from the universities.
Online journalism
   -Insert several links (like official documents).
   -Put videos and pictures about interviews.
   -Add buttons to share, like, and link to the contact information below the headline.
   -Use hashtags and the plug-in comment box.